How the remaining Land Rover Burghley first timers fared
Twelve first timers crossed the finish line at this year's event...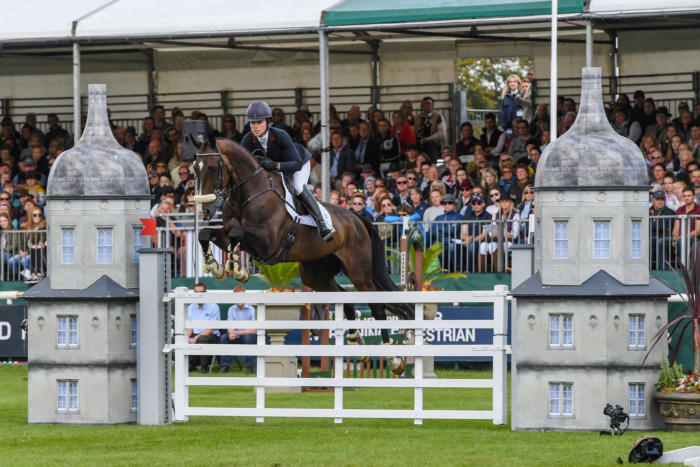 Here's how out how the remaining 12 Land Rover Burghley Horse Trials first timers fared as they completed the competition.
12th after cross-country, Ariel Grald and Leamore Master Plan ended up highest-placed first timers in a very credible 10th place. Thirty year old Ariel is from Southern Pines in North Carolina and was competing in the UK for the first time, courtesy of a US Equestrian Team training grant. Leamore Master Plan, however, is no stranger to this side of the Atlantic, having been bred in Ireland by Michael Byrne.
"Burghley is bigger and badder than anyone tells you," laughed Ariel, "and you'd better be on a darn good jumper if you come here - luckily I was." The pair jumped clear yesterday but lowered fence two in the show jumping to rise two places overnight.
"We had fence two down as he was a bit distracted at first," admitted Ariel, "but after that he was great. Burghley has been an incredible journey but now my focus is just on getting him home safely and giving him a long holiday. He's only 10 and has done a lot this year – his flatwork will improve as he gets stronger but he's as honest and brave as they come. Hopefully we can come back here again next year now I've had a taste of European eventing, although I'd also quite like to go to Aachen too."
9th after cross-country, Sebastien Cavaillon and Sarah D'Argouges, finished an eventual 11th on 61.0.
The pair had three fences down today and Sebastien admitted that he had been affected by the tragic news that a talented French young rider, Thais Meheust, had died yesterday.
"It wasn't our best round and I was feeling a lot of pressure," he admitted. "I'm disappointed but finishing 11th is still not bad."
18th after cross-country, Emily Philp and Camembert, ended up 14th on 66.5
"That was awesome," she said of their clear round. "He had an early fence down at Badminton which threw me but I just stuck to my plan here and it worked – I'm thrilled."

15th after cross-country, Elisabeth Halliday-Sharp and Deniro Z, finished 15th on 66.8.
"He tried so hard," rued Elisabeth after the pair lowered a rail. "He gave everything so much air time – I just think sometimes he 'over wows' himself a bit and panics. I just wish we'd have done one more warm up jump…"

17th after cross-country, Alicia Hawker and Charles RR, completed in 16th place on 68.1. The pair had one fence down but Alicia was still delighted with her horse.
"He was such a good boy," she enthused. "I was really pleased as he came out fresher than I had expected this morning, but we definitely had better brakes that we had at Badminton!"

16th after cross-country, Arthur Chabert and Goldsmiths Imber, placed 17th on 70.9.
"She was a bit excited and I was very nervous," explained Arthur after the pair collected eight penalties. "It's job done though and I'm really happy – she'll go and have a nice long holiday now."
21st after cross-country, David Doel and Shannondale Quest, took 23rd place on 80.4.
"He was quite tired today as he's a big old horse," said David after the pair lowered three fences. "I didn't really have the rideability I wanted today as he was rather feeling the effects of galloping for 12.5 minutes yesterday, but he's absolutely fine and hopefully we'll head to Badminton next May."
25th after cross-country, Will Furlong and Collien P 2 were eventual 26th on 88.8. The pair had two fences down and admitted to having learnt a lot from their first Burghley.
"It hasn't been the perfect first Burghley but we've completed and she's happy and sound which is the main thing," said Will. "We're both still learning at this level and the way she has performed in all three phases this week gives me confidence that we're still moving in the right direction."
31st after cross-country, Nicky Hill and MGH Bingo Boy, moved up to 27th on 89.7.
"I'm pleased to have ended the competition with a clear round. He's a good jumper and he tries so hard but he was really playing me up at the trot up and has been squealing away all morning. To complete is great, I'm just a bit frustrated as it was entirely my fault that we picked up 20 penalties yesterday."
29th after cross-country, Dominic Schramm and Bolytair B, were eventual 28th on 90.4.
"It's good to have that done and dusted," laughed Dom after posting a clear round. "I had a fresh horse in there as we didn't go too fast yesterday. I'm back home to the US now as I've got some youngsters competing at a show next weekend."
32nd after cross-country, Samantha Lissington and Ricker Ridge Rui, completed in 30th place on 101.1
"Yay, I'm so excited to have completed," exclaimed Samantha. "There's not going to be that many finishers from this year's field so I'm really glad to have done my horse justice. He jumped really, really well, I just got a bit caught out on the turn to fence four and we had it down."
27th after cross-country, Julia Norman and Carry On Bobby Boy, dropped to 31st on 101.3. Despite lowering four show jumps, Julia was still delighted to have completed Burghley for the first time.
"He's not the best show jumper, to be honest," admitted Julia, "but we've completed. He can be really rude in this phase at one-day events but is completely different at three-days so I'm still learning how to ride him differently in these environments."
Pagination