How the first timers fared on cross country day
Fourteen Land Rover Burghley first timers are still in the mix at the end of a challenging cross country day.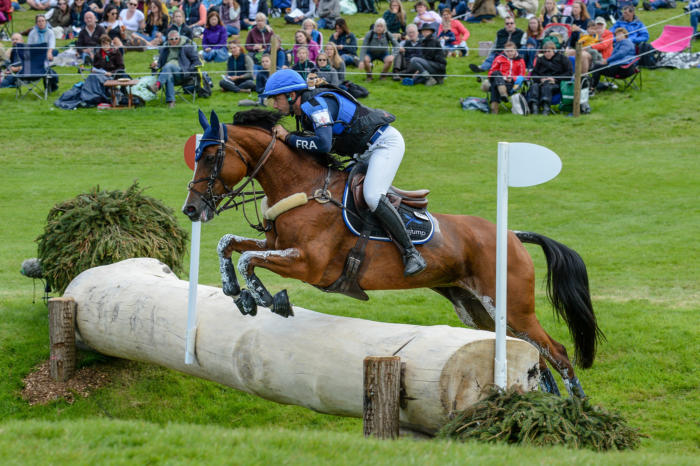 With only half of today's entire lineup completing Captain Mark Phillips cross-country course, it was inevitable that our list of first timers is also depleted.
Sebastien Cavaillon and Sarah D'Argouges now head the list with a clear round plus 19.2 time penalties to go in to the final day in 9th place, up from 13th.
"She jumped really well," said Sebastien. "I think she was a bit confused by the questions at the Dairy Farm (fence 20) but I am very happy with her."
Ariel Grald kept American hopes alive, climbing up to 12th, from 48th= on Leamore Master Plan, again clear with 15.6 time penalties.
"I was hoping to have been a bit faster but he seemed a bit 'star struck' at the start and we lost some time early on," she admitted. "I went out there with a plan but a lot of it went out the window and I just ended up trusting him."
Elisabeth Halliday-Sharp and Deniro Z had a somewhat disappointing day. Seventh at the end of the dressage phase, they dropped behind countrywoman Ariel to 15th, just .1 of a penalty ahead of France's Arthur Chabert on Goldsmiths Imber who had rocketed up the leaderboard from 58th after dressage.
"It means so much to have completed the course," confessed Arthur. "It felt really difficult out there and I'm chuffed to bits with my horse. We went all the straight routes but I just didn't want to push her too fast – she was brilliant."
Alicia Hawker riding Charles RR and Emily Philp on Camembert also leapt up the rankings to lie in 17th and 18th place tonight.
"That was amazing, I can't stop smiling," said a delighted Alicia. "The fences were massive but he loves to use his scope. We were a bit slow to start with but we got our bums into gear after a few minutes. I knew I had to attack the fences up at the Maltings, so I did, and Charlie got his second wind after the Dairy Farm so we cruised home."
Emily, however, was more relieved than anything after she brought Camembert home with 33.2 time penalties.
"That was terrifying," she confessed. "I'm just happy to have got round clear after it caused so many problems. I was really chuffed with how he went through the Trout Hatchery but he lost a shoe there so I had to change a few plans after that as my priority was just to get a good, solid clear."
David Doel and Shannondale Quest have moved up 24 places to 21st, while James Sommerville and Talent are up to 23rd.
"He's a big old boy and a bit like a tank so he got a bit tired about three fifths of the way round and I had to nurse him home but I'm thrilled" said David.
A confessed lack of brakes contributed to James Sommerville and Talent's 39.2 time penalties as James had to waste a lot of time trying to 'anchor' Talent between fences.
"He's an outstanding jumper but he needs to learn to listen to me," admitted James. "He proved himself to be a class horse out there today though because, my God, that was big!"
The remaining first timers, however, did not keep a clean jumping record.
Will Furlong and Collien P2 had a refusal at the big parallel at the start of the Trout Hatchery (fence 10), dropping six places to 25th. However, Will was still justifiably proud of their round.
"I think our mistake was just down to lack of experience," he reflected. "I killed the power a bit too much going into the parallel but we've completed our first Burghley with just one mistake so I'm thrilled."
Julia Norman jumped all the fences without refusing but collected 11 penalties for breaking one of the safety devices at the first of two upright white gates at fence 16, but still moved up from 50th place after dressage to 27th.
The same fate befell Dominic Schramm and Bolytair B at fence 10 and Chris Talley on Unmarked Bills at 13. They still moved up the leaderboard from 53rd to 29th and 61st to 32nd respectively.
"I'm just happy to still be in one piece," joked Dominic. "I'm a bit annoyed that I didn't go faster as Bolytair B finished with plenty of gas in the tank. That said, I kept looking at my watch on the way round wondering how the hell anyone ever gets the time here. He gave me an unbelievable ride."
Nicky Hill and MGH Bingo Boy had a run out at fence 9 in Discovery Valley after Nicky admitted she got her line wrong. They fill 31st spot, with Kiwi Samantha Lissington the lowest placed of all first times who completed today, in 33rd place overnight. Illustrating just what a Burghley completion means to riders though, Samantha was very emotional after her round.
"It feels crazy to be standing here having completed the Burghley cross-country track," she said, slightly overwhelmed. "I can't believe we made it through the finish flags after so many years of hard work. I had one green (inexperienced) moment and unfortunately we paid the price but, fingers crossed, we'll be back next year and we'll do better."
Unfortunately several first timers' competitions ended out on the cross-country course today. Richard Skelt and Credo III and Eliza Stoddart and Priorspark Opposition Free both fell at the gates at fence 16 after problems earlier on in the track, while Doug Payne and Vandiver failed to make the back rail of one of the huge white parallels at the Maltings at 13. David Britnell and Continuity also retired here and Isobel English and Feldale Mouse fell at the third, corner, element.
Johan Lundin and Mind Me had problems at the corner in Discovery Valley at fence eight while Clara Loiseau and Won't Wait and Caroline Clarke and Touch Too Much both parted company at the Rolex Grand Slam Triple Brush (fence six).
Ginny Howe and Undalgo De Windsor's campaign ended at the Trout Hatchery at fence 11 but perhaps the unluckiest round of the day was that of George Hilton-Jones and Efraim. The pair had been enjoying a wonderful clear round until George was unseated at the Keepers Brushes (fence 19) when Efraim got a front foot stuck in the bottom of his martingale. Thankfully both horse and rider walked away unscathed.
First timer rankings after cross-country
9th Sebastien Cavaillon & Sarah D'Argouges ~ 49.0
12th Ariel Grald & Leamore Master Plan ~ 53.7
15th Elisabeth Halliday-Sharp & Deniro Z ~ 62.8
16th Arthur Chabert & Goldsmiths Imber ~ 62.9
17th Alicia Hawker & Charles RR ~ 64.1
18th Emily Philp & Camembert ~ 66.5
21st David Doel & Shannondale Quest ~ 68.4
23rd James Sommerville & Talent ~ 74.3
25th Will Furlong & Collien P 2 ~ 80.8
27th Julia Norman & Carryon Bobby Boy ~ 85.3
29th Dominic Schramm & Bolytair B ~ 86.9
31st Nicky Hill & MGH Bingo Boy ~ 89.7
32nd Chris Talley & Unmarked Bills ~ 99.6
33rd Samantha Lissington & Ricker Ridge Rui ~ 108.1
Failed to complete the cross country
Eliza Stoddart & Priorspark Opposition Free
Doug Payne & Vandiver
Johan Lundin & Mind Me
David Britnell & Continuity
Isabel English & Feldale Mouse
Richard Skelt & Credo III
Clara Loiseau & Wont Wait
Caroline Clarke & Touch Too Much
George Hilton-Jones & Efraim
Ginny Howe & Undalgo De Windsor
Pagination