How the cross-country course is riding
With fourteen horses cross-country phase finished, there has been plenty of excitement spread around the Captain Mark Phillips's course.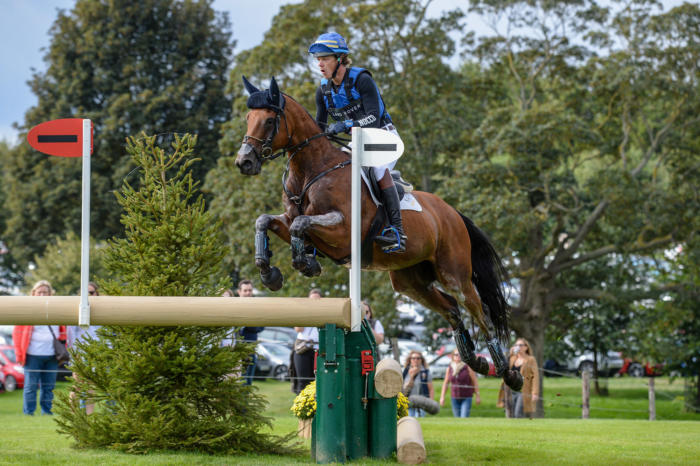 First out across country was Tim Price riding Bango, and he will have done much to settle riders nerves. The pair came home clear, albeit with 12 time penalties – the optimum time this year for the 27 numbered fence course is 11minutes 16seconds.
"We came here off the back of a not great Badminton, so I took a bit more time. It's a great course out there, and jumps beautifully," said Tim, before heading back to the stables to prepare for round two of the three he has today.
Michael Owen was next out and was running well until Bradeley Law left a leg at the second element, an egg box, of Clarence Court at the Dairy Farm (fence 20), causing the pair to run past the final element.
Current leaders, Ludwig Svennerstall and Stinger, restored calm with a clear round and six time penalties, Ludwig saying, "It's a true challenge. The fences are amazingly built and very fair, but a test for the rider to ride the correct lines. Last year I set out a bit quick, so started a little slower this year and he felt nice and fresh at the end."
First timers Will Furlong riding Collien P 2 completed with a refusal at the first element of the Trout Hatchery (10), a broken frangle pin with its associated 11 penalties, and time penalties: "I may have killed the power a bit too much coming in to the Trout Hatchery – a lack of experience on my part. Having said that, I have got round my first Burghley with just one mistake so I am thrilled."
Another first timer still in the competition is Nicky Hill with MGH Bingo Boy. "I got my line wrong in Discovery Valley (they incurred a runout) and we showed our inexperience at the start, but got more confident as we went on," said a very soggy Nicky. She explained: "Dad went to chuck a bucket of water over my horse to help with the cool down, but he missed and got me instead!"
Gemma Tattersall was a surprise faller from the experienced Arctic Soul. The horse misread the corner at Joules at the Maltings (13), coming to an abrupt stop whilst Gemma continued over the fence. Hazel Towers also parted company at The Maltings when Simply Clover dropped his back legs in the first parallel element, tipping his rider out of the saddle. Thursday dressage leaders Eliza Stoddart and Priorspark Opposition Free suffered both a run out at the Rolex Grand Slam Triple Brush (fence 6), and a broken frangible (safety) pin at the Discovery Valley corner (8b), before suffering a horse fall at the first gate at Land Rover at the Lake (16).
Pippa Funnell and Georgie Spence withdrew Billy Walk On and Wii Limbo before the cross-country.
Pagination