Thursday lunch break dressage update
Land Rover Burghley debutant tops the leaderboard at the lunchtime break.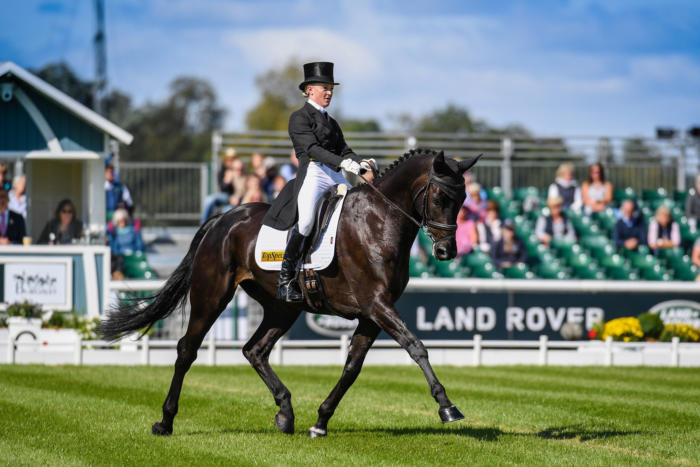 5* first timers Eliza Stoddart and Priorspark Opposition Free lead the way at the end of the first session of dressage at Land Rover Burghley Horse Trials on a score of 28.7.
"This is such a wonderful moment," said a clearly overwhelmed Eliza after her test which comprised three 10s for her halts and 9s for the stretch canter from the Ground Jury of Nick Burton, Christina Klingspor and Xavier Le Sauce.

"Priorspark Opposition Free is not flashy, he just tries hard and does what is asked of him," she added. "It's my first Burghley so there's quite a lot of pressure but it's also really exciting to be here – it hasn't really sunk in yet that I'm riding as I've been here every year as a spectator or as part of the Pony Club since I can remember."
Last year's winner, Tim Price, is currently second with one of his three rides, Bango. The 13 year old was 10th here last year and posted a personal best at this level of 29.6.
"I'm really happy," said Tim. "He's a real red head and has all the associated characteristics but he did a nice smooth test out there. He's healthier than he's ever been and I think he's got a really good chance of going well." Tim rides Xavier Faer at 1621 today and brings last year's winner, Ringwood Sky Boy, into the arena at the same time on Friday to start the defence of his title.
Pippa Funnell and Billy Walk On currently occupy third place on 30.1, despite Pippa rueing a self-confessed "senior moment" when she halted in the wrong place.
The afternoon session starts at 1400 with Katie Preston and Templar Justice first into the arena.
Pagination