All change at the top
As predicted, it was all change at the top of the Land Rover Burghley Horse Trials leader board after today's cross country phase.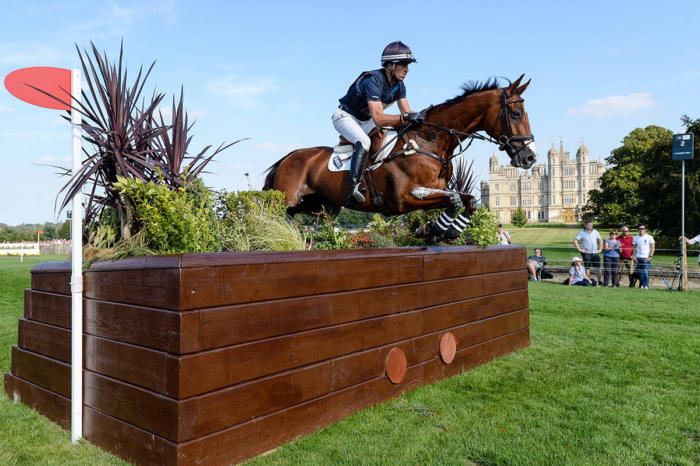 Dressage leaders Sir Mark Todd and Kiltubrid Rhapsody's round came to a premature end at fence 10, the Gurkha Kukri where they parted company. Prior to this the pair had a hairy moment at the Leaf Pit at fence 7 where the grey launched himself off the formidable drop, almost unseating his rider. Thankfully he had a better time on NZB Campino. Second to go this morning, this pair collected 14.8 time penalties to sit 19th.
The new leaders going into tomorrow's final show jumping phase are New Zealand's Tim Price and Ringwood Sky Boy who completed Mark Phillips' track one second over the optimum time of 11 minutes and 11 seconds. This combination has been second and fifth here in the past and their round was the epitome of judgement, control and composure.
"He's not a speed horse," admitted Tim. "With him, it's all about lines and rhythm. I'm really pleased with him. He wouldn't be the world's best show jumper but he would be the world's best trier so if I prepare him well tomorrow, hopefully we can hold on to the lead."
Tim is also 17th with Bango on 32.1.
Last to go, Oliver Townend rode one of just four rounds inside the optimum time on last year's winner Ballaghmor Class to move up from fifth after dressage to second. Earlier in the day he also produced clear jumping rounds on MHS King Joules (10th) and Cooley SRS (13th). A phenomenal achievement.
"I'm going to enjoy today," said an emotional Oliver immediately after his round. "All three were amazing but Ballaghmor Class is very, very special. I never thought he'd get the time as the terrain is extremely testing but he dug really deep for me."
The other three combinations to make the time were New Zealand's Andrew Nicholson and the prodigiously talented Swallow Springs (5th), Ireland's Elizabeth Power with Soladoun (7th) and Great Britain's Tina Cook and Star Witness. The latter climb 50 places up the leader board to 12th after lying 62nd after dressage. Both Soladoun and Star Witness are ex-racehorses and drew on their natural speed, whereas Swallow Springs is a horse who benefits from being ridden with confidence to fulfil his potential:
"He's a bit like Avebury (Andrew's three-times Burghley winner), said his jockey. "You've got to ride him like you stole him – if you pussy foot around he starts adding strides, but he's pure class." Andrew also had a fabulous round on Jet Set II who moved up from 29th after dressage to 8th on 36.2 after collecting just 2.4 time penalties
Last year's runners-up, Piggy French and Vanir Kamira held the lead for a large chunk of the day after they came home just three seconds over the optimum time to complete on 31.1. However, Tim and Oliver's rounds at the end of the afternoon knocked them off the top spot to third on 31.1.
"She's a fabulous little mare," enthused Piggy. "You could strap a monkey on her back across country and she'd keep going. My main job is to keep her balanced. I'm kicking myself for picking up the time penalties though as she finished full of running but I felt I had to give her time earlier on in the course to fill her lungs after going up the hills."
Another British combination, Harry Meade and Away Cruising also completed the day on 31.1 but sit fourth as they were a second slower across country: "He enjoyed it the whole way round," said Harry. "He didn't stay the distance last year so my mission today was to save every second I could. In hindsight I could have asked him for a bit more as he finished strongly."
Sarah Bullimore and Reve Du Rouet's 7.6 time penalties dropped them from fourth to sixth, while local rider Richard Jones moved the opposite way up the leader board, climbing from 33rd to ninth with Alfie's Clover: "My goal was to go clear inside the time," admitted Richard, "but I had to go to plan B coming out of the Trout Hatchery when I saw a stride I shouldn't have seen going in which meant I couldn't get my line coming out. I think that's where we lost time and ended up with 2.8 time penalties."
Sixty eight combinations started today's competition, of which 35 came home with no jumping penalties, much to course designer, Captain Mark Phillips' delight. The competition is still very much alive though with less than one show jump between the top four combinations.

The final horse inspection takes place tomorrow at 0900, with show jumping for the lower placed riders starting at 1030 and for the final 24 at 1425.
Pagination