How this year's first timers fared across country
Fifteen riders came forward to tackle their first Land Rover Burghley Horse Trials this year.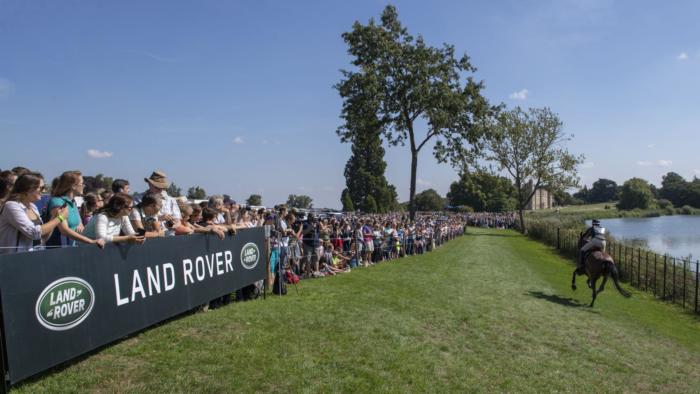 Irish rider Ciaran Glynn is the highest placed of the group, lying in 16th place overnight. Up on the clock at the bottom of Winners Avenue he let November Night catch her breath on the climb. "It took longer than I expected to get up the hill, but I'm glad I did it as she was great at the Clarence Court (21 &22).
Four places behind Ciaran is Katie Preston (read more about Katie HERE) and Templar Justice who came home clear with 8.8 time penalties to add. "He's the most incredible horse ever; clever, strong, a bit gobby and lairy, but if I point him at something he will jump it. He towed me up Winners Avenue and over the Cottesmore Leap – I think I'm more tired than he is. None of the fences were bigger than his heart."
Camille Lejeune also jumped clear, fist pumping as he crossed the finish line. Camille picked up 13.6 time penalties, moving the Frenchman up six places to 24th: "I feel great! She was spooky at Discovery Valley (5), but she's a big jumper which was an advantage for me today and she finished fresh."
Another clear was produced by Julie Tew and Simply Sox. Twenty two time penalties dropped the pair 11 places to 27th, but Julie was elated: "Oh my god! I can't put it into words. The horse did everything for me towards the end as I was really tired." Julie has 90% nerve damage in both legs and was told to give up riding five years ago. Very emotional, she added, "I never thought I would ride around Burghley, and I've just gone clear!"
Hector Payne rode beautifully – he kept the pressure off Dynasty speed-wise, collecting 25.6 time penalties and taking his score to 58.8 which dropped the pair slightly down the order from 24th to 29th. "That was a hell of an experience. The first three and the last three fences were the most enjoyable – I just wanted to get home once we hit the half way mark. Dynasty tried his heart out."
Clear rounds also came from Tom Rowland and Hazel Towers. Both Possible Mission and Simply Clover picked up multiple time penalties to lie in 33rd and 38th places respectively.
"I'm slightly embarrassed to be a minute over the time," Tom admitted, "but my goal was to go clear – although I am slightly kicking myself for not taking more risks. I had a fall at Hartpury recently, right near the end of the course, so I was being cautious." Simply Clover lost a shoe fairly early on and Hazel pointed out: "It wasn't pretty and she was slipping a bit. We stuck to plan A, she just wasn't as confident as she usually is."
Triple Chance kept a clean jumping sheet for Ashley Edmond, climbing from 68th place to 39th despite also incurring significant time penalties. "He was strong towards the end of the course so I knew I had to be cautious coming to the single fences down the hill. I was slightly reserved at the start and gave him a tap going up Winners Avenue – from then he just got better and better."
Kiwi Ginny Thompson and Star Nouveau completed their first Burghley cross-country with 20.4 time penalties and 20 jumping penalties, following a run out at the bottom of the Leaf Pit (fence 8). They finish the day on a score of 76.9, still up eight places from yesterday to lie in 40th place. "I didn't get my line right at the Leaf Pit so I'm sad for that, but she was amazing, I'm over the moon – I've just got round Burghley."
Lying at the bottom of the list of finishers is Lydia Hannon. My Royal Touch had run outs at both the Leaf Pit (8) and the Rolex Combination (15). "She just went a bit green on me and was quite looky at the crowds early on. I think the crowds take more out of them than we realise. I'm so thrilled to have got that round under my belt."
Austria's Katrin Khoddam Hazrati retired the nine-year-old Cosma at the Leaf Pit (fence 8), the mare patently struggling with the challenging course. Also raising their hand at the same fence was Sam Ecroyd after Master Douglas had a run out. Sarah Pickardand Polo Striker were eliminated after parting company at the Trout Hatchery (fence 11), while Emily Prangnell's DHI Beauness refused to jump the skinny triple bars out of the Leaf Pit.
Lissa Green withdrew Hollyfield II before the start.
Pagination