Bradeley Law will bow out at Burghley
Bradeley Law, the long-term ride of Michael Owen, will bow out from top-level competition after Defender Burghley Horse Trials.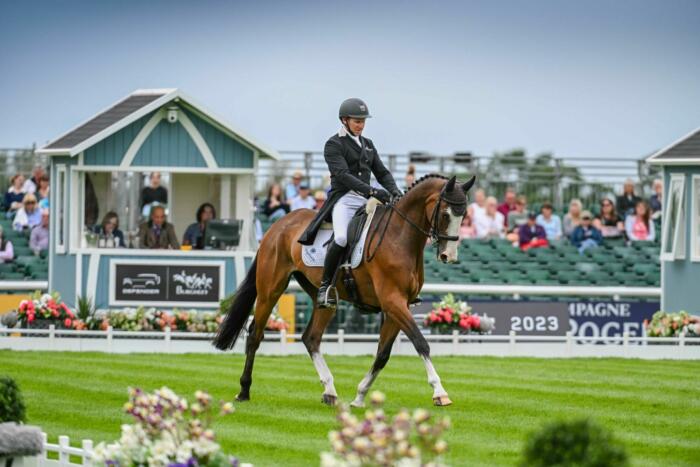 The 19-year-old SHB(GB), by the successful eventing sire Mill Law and out of Scarlet Lady, was bred by his owner, Jane Jennings, and produced to intermediate level by Mary Lofthouse.
"Mary struggled with him a bit at intermediate level, so she rang me and asked if I'd take him on," Michael explains. "It quickly became apparent that we gelled, especially across country. With Mary he'd been tricky and quite hard to keep sound. He'd had quite a few 20 penalties on his card and had lost a bit of confidence in the showjumping.
"His owners bred him and they've always let me treat him like my own, which has been key because he is quite quirky. I quickly realised that he didn't like being over-controlled. He likes to feel he's taking you to things, you've just got to be brave enough to trust that he's got this. Fortunately, we found our form pretty quickly and took on our first five-star three years later."
It wasn't the most auspicious first attempt at the top level. Michael was unseated at Badminton in 2016 and Bradeley Law jumped three fences in the wrong direction on his way back to the stables. However, they completed Badminton for the first time in 2018 and did the same again the following year. They have completed Burghley twice, with a third hopefully in the offing.
Of his dressage test at this year's Defender Burghley, which scored 36, Michael said: "I really enjoyed it – it was the very last test we are ever going to do together and it was a personal best for him. He's struggled in this phase and it's taken a long time to instil the confidence in him to be able to do a test in a big atmosphere. He has something of a split personality at the big shows."
Today is cross-country day and Michael admits: "It takes a very special horse to finish Burghley full of running, and he's done exactly that in the past. When I think of the cross-country here I will always think of him."
Michael continues: "He knows what's coming today and he knows where he is; he's very intelligent. It's such a nice feeling to be sat on a horse who wants to do the job. Hopefully I'll just have to steer him. On his day he would be one of the best in the world across country, he has these radar ears and sees the flags and his line before I have. He sets himself up for the fences."
Michael admits that 'Crocky', as he is known at home, does "creak a bit" after a big cross-country test now.
"We've learnt how to manage it and hopefully we can make it to Sunday," says Michael. "I'd like to think we could manage a top 10 or 15 finish, but whatever happens this weekend, he owes us nothing."
The Owens are delighted that Crocky — who can live up to his name by nipping occasionally, but was in fact named after his breeders' neighbour, who delivered him as a foal because they were away — will live out his retirement with them.
"We have the space and he's so settled with us," says Michael. "We'll keep him ticking over, and maybe he'll do the odd show with my wife, Ash, or one of the girls on the yard. He's really easy to handle and anybody can hack him. He's not one to retire to the field just yet.
"Crocky has done so much for me, giving me the confidence to give these big tracks a go, taking the straight routes. He's also been a shop window for my coaching business. I'm so grateful that I've been part of his life; he means the world to us," he concludes.
"I keep trying to not over-think the fact that everything we are doing this weekend is for the last time. On Monday morning it will probably hit me, but what a journey we've been on. I've just got to enjoy the memories."
Pagination