How this year's course is riding
Derek di Grazia's cross-country course is proving jumpable — and the time gettable — but not by the first two starters.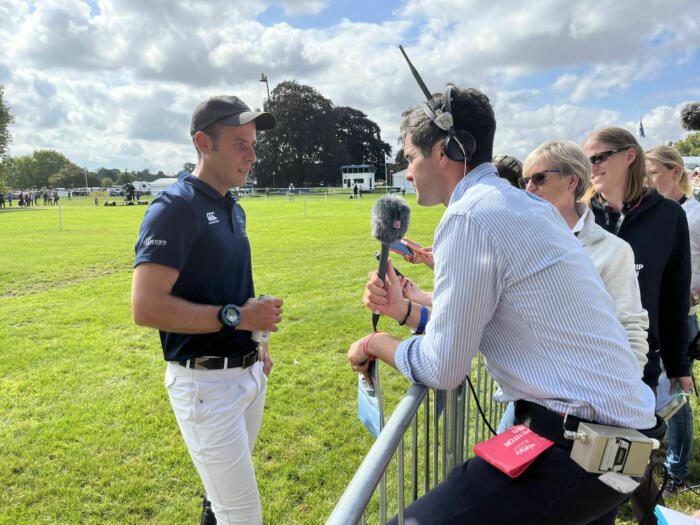 The pathfinder was Harry Meade and the first of his three rounds, Away Cruising. The pair was jumping well until Rolex Grand Slam at Capability's Cutting where they picked up 20pen. Harry explained that the steep climb up after landing in the bottom of the cutting didn't leave 'Spot' with enough time to judge the take-off point and he took off over the far right (wide) side of the corner of the jump out, missing the flags and forcing Harry to circle.
Next out, Oliver Townend on Tregilder was even more unfortunate. He suffered a tack malfunction with a rein breaking in Winners Avenue, necessitating retirement.
Those watching in the Riders Tent had their nerves settled by the next two combinations. First Wills Oakden and then David Doel jumped superb clears inside the time on Oughterard Cooley and Galileo Nieuwmoed respectively.
Wills admitted: "I'm not ashamed to admit it, but I was out of control the whole way. It was a case of pick a spot left or right in whatever gear we were in, he was just relentless."
A delighted David Doel said: "He was lovely and flowing the whole way round. I had one or two little moments — he stood on the top of the Irish Bank (17ab) and then we saw a bit of a flyer to the chase fence, but he was still pulling me all the way. I'm dead chuffed with him."
Tom McEwen's first ride, Luna Mist, was also clear but with time penalties. Tom had hoped to go for the time, but said the mare lost a bit of rhythm going through Defender Valley after which she got a little bit hot and tense and it took him to the Trout Hatchery to settle her again.
In other news, Harry Mutch and Greta Mason both picked up 20 penalties at the Leaf Pit, Zara Phillips pulled up Class Affair, and both Christoffer Forsberg and Ros Canter parted company from their rides at Defender Valley (fence 5) and Defender Dairy Mound (fence 20).
Pagination