First-timers shine on tough cross-country day
All bar two of this year's freshers made it through the finish flags at the Defender Burghley Horse Trials on a testing day of cross-country when many experienced favourites faulted or failed to complete.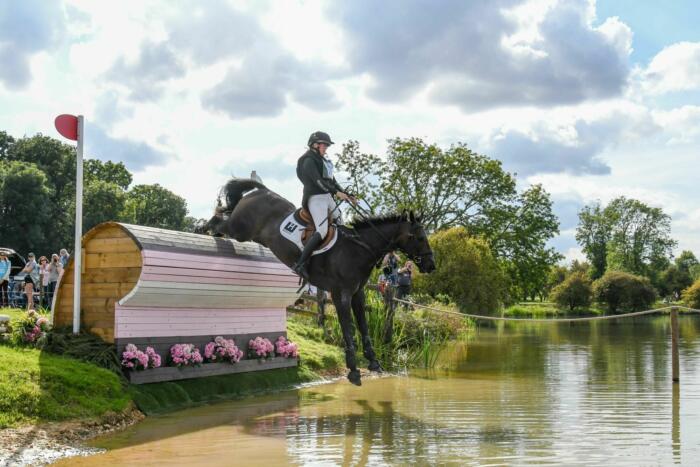 Currently the best of those still in the game is Grace Taylor riding Game Changer. Seventh after dressage, the pair now sits in 16th after adding 17.6 time penalties to their first phase score.
"It took much more out of me physically than I thought it would," admitted Grace after her round. "Game Changer was awesome and tried his guts out; it's exciting to know that he really is a five-star horse."
Hard on her heels is fellow US rider, Jennie Saville whose ride, FE Lifestyle, was faster than Game Changer to finish a score of 46.7 and sit in 17th place.
Jennie was genuinely shocked to have jumped clear.
"To me, this is without doubt the hardest five-star in the world, I have never felt the horse having to dig in like he did today," she said.
Icarus X, the ride of Emma Thomas, also jumped clear adding 21.6 time penalties.
Described by his rider as a "wild child, in terms of energy and enthusiasm", 'Sticky' has to be warmed up in a quiet field away from the other horses and is then led to the start box with a few seconds to go.
"Sticky was incredible, although I have no arms left," laughed Emma. "Cross-country is what he was put on the planet for. He is a total freak across country and towed me the whole way round."
Holly Richardson and Bally Louis lie a couple of penalties behind Emma. Holly plied her trade working for past British Olympian Karen Dixon, and she took over the ride on Bally Louis from James Sommerville. The pair has climbed from 42nd to 24th on the leaderboard, despite accruing 26 time penalties.
"I genuinely can't believe we've done it; he just kept jumping," said a clearly elated Holly. "I pointed him in the right direction and he jumped the fences, taking all the straight routes."
Also completing were Richard Coney (Poetry in Motion, 26th overnight), Lauren Innes (Global Fission M, 27th) and Emily King (Valmy Biats, 29th) — the latter broke a frangible pin and picked up time-faults. James Rushbrooke (Milchem Eclipse, 30th) also finished, as did the youngest rider in the competition, Tom Bird, with his failed hunter, Rebel Rhyme (33rd), plus former British Under 25 Champions Greta Mason and Cooley For Sure, 35th.
Pagination