Viva Vitali
Dressage leaders Tim Price and Joe and Alex Giannamore's Vitali have retained pole position at the end of today's cross-country phase at the Defender Burghley Horse Trials. The pair added eight time-penalties to complete on a score of 26.7.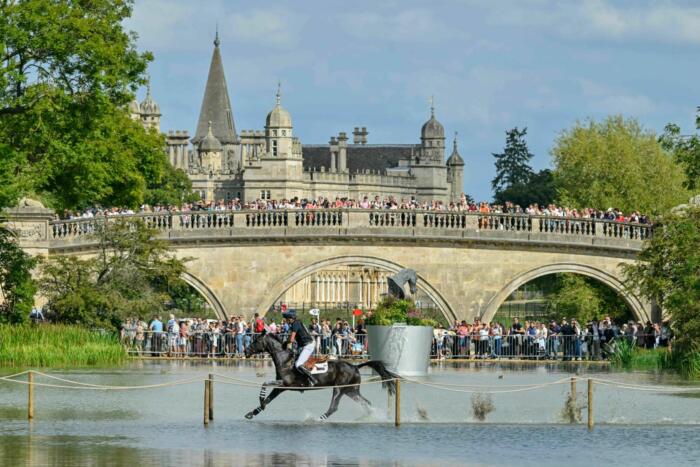 Oliver Townend sits second with Ballaghmor Class on 29, while David Doel and Galileo Nieuwmoed climbed the leaderboard from 25th after dressage to end the day in third on 33.7.
Tim was delighted with 13-year-old Vitali, despite their sprinkling of time-faults. "Vitali has shown his class again," he said. "He wasn't as 'up in front' of me as he usually is, perhaps due to the lack of a final run at Gatcombe, but he tried very hard and excelled."
Oliver had started the day with three horses in the reckoning, but a snapped rein with Tregilder and a momentary loss of concentration from second-placed Swallow Springs, which resulted in penalties for a triggered frangible device at The Dairy Mound, put both horses out of contention. It was left to Oliver's stalwart five-star campaigner, Ballaghmor Class, to put in his trademark exemplary round and he came home just over the optimum, incurring 4.8 time-penalties.
"What can you say about him?" asked Oliver of the 16-year-old gelding, who is owned by Karyn Shuter, Val Ryan and Angela Hislop. "He's an absolute freak of nature; my hero and my horse of a lifetime. He definitely wasn't showing his age out there – he opened up his stride early on and never closed it. He knows what he's doing, all I have to do is show him where he's going."
One of the rounds of the day came from Wiltshire-based former Junior and Young Rider European team gold medallist David Doel, who was competing at Burghley for only the second time. Fourth to go with Gillian Jonas' Dutch-bred Galileo Nieuwmoed, the pair made light work of Derek di Grazia's cross-country course and came home nine seconds under the optimum time. They were one of only two combinations to do so — a feat made even more impressive given this is the horse's Burghley debut.
"I'm dead chuffed with him," said David after his round. "He gave me a super ride and was pulling all the way. We had a few little moments but he finished extremely happy."
The other combination to finish inside the time was Scottish rider Wills Oakden with Oughterard Cooley. The pair was third to go and set the standard for the rest of the field when they galloped through the finish with two seconds to spare, making the track appear deceptively easy in the process. Their round was good enough to see them end the day fourth on 34.9.
"I'm not ashamed to admit that I was out of control pretty much the whole way," confessed Will after his round. "But what a horse, I'm so impressed with him – he's relentless."
Wills also enjoyed a good ride on his second horse, Arklow Puissance, picking up 4.4 time-penalties to lie 10th going into the final showjumping phase tomorrow.
Irish Olympic rider Sam Watson made his first trip to Burghley since 2012 a memorable one. He rode his 2021 European Championships mount, SAP Talisman, who was contesting his first CCI5*, into fifth place. The pair came home just one second over the optimum time to complete on 35.8.
"He was unreal," enthused Sam. "If I could have settled him sooner we'd have been inside the time."
Cross-country trailblazer Harry Meade enjoyed a peach of a ride on five-star first-timer Cavalier Crystal, who leapt up the leaderboard and lies sixth overnight.
America's Boyd Martin lies seventh with Tsetserleg TSF on 37.7, while former Defender Burghley winner Pippa Funnell and Mayas Hope are eighth on 38.4.
With less than three penalties between the top two — the equivalent of one showjumping rail down — there's still all to play for in tomorrow's final phase.
Don't miss a thing with Burghley TV, covering everything from the first horse inspection to the final prize giving, plus interviews and feature content plus a daily highlights show.
Last year's coverage won brilliant reviews from users; new this year is our 'batcam' drone and hat cameras giving a rider's view of the course.
Burghley TV is hosted by Nick Luck and Rosie Tapner, with commentary from John Kyle, Nicole Brown and guests.
https://burghley-horse.co.uk/b...

Pagination