Strong Racing Connection At 2019 Land Rover Burghley
With six ex-racehorses entered in this year's Land Rover Burghley, a Shetland Pony Grand National, the Racehorse To Riding Class and a fascinating preview by Jump Jockey Bryony Frost, there's a strong Racing theme at this year's event.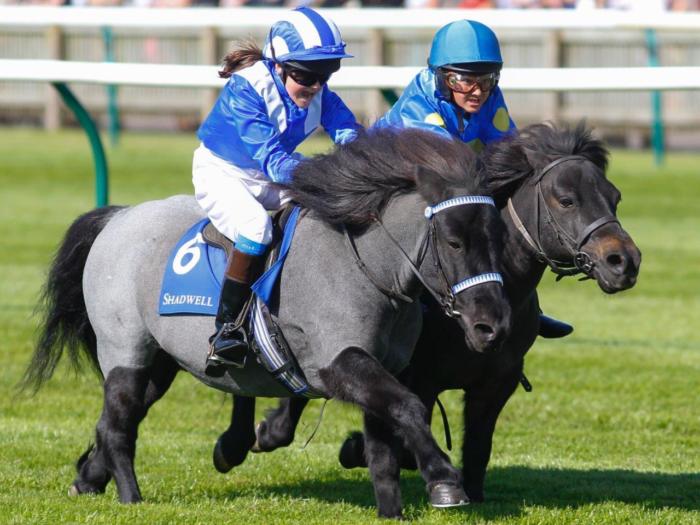 The testing nature of Land Rover Burghley's Cross Country track means it's no wonder that the competitor line-up contains equine athletes who were originally bred to race. This year is no exception with six horses entered who have been re-trained for Eventing after starting their careers on the racecourse.
British Eventing Team regular Gemma Tattersall and her crowd-pleaser Arctic Soul are back at Land Rover Burghley this year. Bred for the track, he started four times without success before being sold at the Tattersalls Ireland August National Hunt Sale in 2007 before going on to Eventing with Nicky Roncoroni. He has been ridden by Gemma since 2011. Known as 'Spike' the Thoroughbred gelding now has excellent form at this level of the sport with five Badminton and two Burghley completions (including top three placings at both) on his record.
The field of retrained racehorses continues with USA rider Savannah Fulton's ride Captain Jack who is an off the trackThoroughbred (known as an 'OTTT' in the US) along with Clara Loiseau's Won't Wait. He was bought out of training as a four-year-old and has been produced to event by Frenchwoman Clara.
Chris Talley's Land Rover Burghley entry, Unmarked Bills, was also bred for the racetrack and raced from the age of 2 to 5, running 24 times and earning over $67,000 before being retired in 2014. 'Bills' was sent to American rider Chris to go Eventing and four months later entered his first competition.
Marcelo Tosi's Glenfly is another Thoroughbred born for competition. The 14-year-old is by the leading jump sire Presenting (who was sire of Denman, Grand National winner Ballabriggs and War of Attrition) out of Dorans Glen by Over the River (the sire of the former British eventer, Over to You). He was acquired off the track in 2012 and has since been produced through the grades by Brazilian Olympian Marcelo.
Swedish first timer Johan Lundin's Mind Me is a 13-year-old Irish-bred Weatherbys registered Thoroughbred and is by the Sadler's Wells son, Saffron Walden. He was produced to 3* level Eventing by international Irish rider Elizabeth Power before Johan acquired the ride in 2018 and the pair completed Blenheim.
Jump jockey Preview
The cross over of high-performance athletes from racing to other equestrian disciplines doesn't stop with the equine stars of Land Rover Burghley. Professional jump jockey Bryony Frost who became the first female jockey to win a Grade 1 race when she won the Ryanair Chase at the Cheltenham Festival this year, recently joined Captain Mark Phillips to learn more about his 2019 Cross Country course.
She commented on the experience: "God I wish I had a horse to jump this course on, the buzz would just be immense!"
Junior Jockeys and the Shetland Pony Grand National
This is the first year that this fast and furious feature is part of Land Rover Burghley's timetable. The Shetland Pony Grand National is horse racing on a miniature scale and provides perfect entertainment for those early arrivals on Saturday 7th September, at 9.30am in the Main Arena.
Racehorse to Riding Horse Showing Class

The SEIB Racehorse to Riding Horse HOYS Qualifier is a true spectacle in the Main Arena each year.
The class showcases horses who range from former Flat racing champions to those that have run in local Point-to-Points in a qualifier for the 'SEIB Racehorse to Riding Horse Championship' which takes place at Horse of the Year Show in October.
The six qualifying classes and the Championships were created to show how re-trainable an ex-racehorse can be, and to encourage the re-education of racehorses taken out of Racing and re-educated for recreational riding. Last year Lizzie Harris and her own Wild West won the class to earn their HOYS qualification before going on to take second place in the Championship finale. Lizzie commented at the time: "This is the third time Westie has qualified at Burghley. He absolutely loves it here. He is a complete pet and my two-year-old daughter, Olivia, leads him in from the field every day."
Head to the Main Arena at 12:20 on Sunday 8th September to watch this class of former racehorses blossoming in their new careers.
Tattersalls Sponsorship
Tattersalls, leading Newmarket-based bloodstock auctioneers, return to support the Horse Care Award again this year after joining Land Rover Burghley as a supporting sponsor in 2018.
The award is one that is presented to the groom of the horse considered 'to have been the best looked after during the four days of the Land Rover Burghley Horse Trials'.
Judging for this award takes place during the final Horse Inspection on Sunday 8th September in the Main Arena. Last year groom Janet Willis who looks after Chance Remark (the ride of Leicestershire-based Willa Newton) received the coveted prize from John Morrey, Director of Tattersalls and Morrey will be back this year to present the prize to the 2019 winning groom.
Pagination