The Gurkha Welfare Trust
Land Rover Burghley Horse Trials is delighted to welcome The Gurkha Welfare Trust as its official charity this year. Visitors to the horse trials will see a strong presence from charity representatives, both on its trade stand (A52), at the various Shop & Drop points, and at the new Kids Maze. Out on the cross-country course, fence 10 is a carved wooden kukri, the national weapon of Nepal – this year's Land Rover Burghley winner will also be presented with a ceremonial kukri by General Nick Pope CBE, Chairman of the Trust and Deputy Chief of the General Staff in the British Army.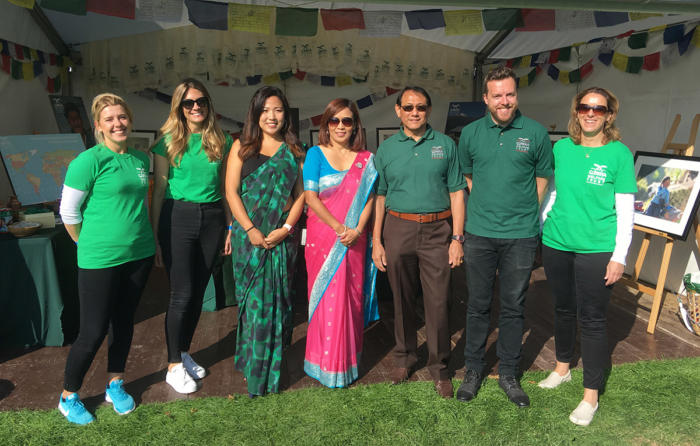 "This is an exciting opportunity to put ourselves in front of an audience that we might not otherwise reach," said Adam Bentham, The Gurkha Welfare Trust's Head of Marketing. "We put the charity forward in part because we associate with the indomitable spirit of the riders – Gurkhas are often referred to as 'the bravest of the brave', and we feel a synergy here."

One of the Trust's key activities is delivering pensions to veterans and their widows in Nepal. Historically a gurkha had to serve for 15 years before qualifying for a British pension and there are currently around 4,500 who fall outside that, who the Trust provides aid to.
"We have just increased the pension to 11,000 Nepalese rupees (equivalent to about £75 per month) which covers basic needs," Adam explained. "We are fundraising at Burghley to raise money to service that increased commitment."
The charitable work is split into three categories: financial, community and medical. Financial obviously includes pensions and grants; community covers the building of schools, the provision of water and sanitation programmes in remote areas, and earthquake preparation.
It has built 1200 earthquake resiliant homes since the quake of 2015, and the response team is now working on disaster preparation, assessing the homes of pensioners who mostly live in far-flung areas, and working to make them as safe as possible; Nepal is one of the most earthquake prone countries in the world.
Medical commitments are wide ranging. The Trust runs medical clinics in some of its 22 offices around Nepal and hosts medical camps in remote communities. It also sends medical staff to inaccessible villages, recently providing motorbike training for these staff – a bike being the best form of transport before sometimes having to resort to 'on foot' when the terrain makes mechanical passage impossible. The Trust currently has 42 bikes in operation across the country, at a purchase price of £3,200 each. The goal is to purchase more in the near future.
Visit The Gurkha Welfare Trust's stand, A52, near the Lion Bridge and you can enter a competition to win a hamper full of delicious products donated by stallholders here at Land Rover Burghley. You can also pick up a 'khada' – a traditional Nepalese scarf made in Kathmandu – and if you post a photo on social media using the hashtag #spotthescarf you could win tickets to next year's event.
This is a hugely worthwhile cause, supporting veterans and their families who gave so much when fighting with such courage in the British army. Great Britain has a debt of honour to these people. For more information about the charity, visit their website.
Pagination