Thursday lunch break dressage update
The first dressage test of the day proved to be the best of the morning session on the opening day of dressage at Land Rover Burghley Horse Trials. Performed by Oliver Townend on MHS King Joules, the early standard has been set at 27.2.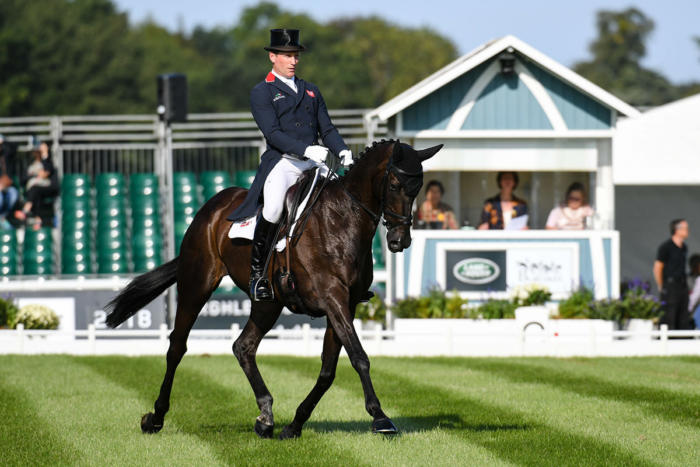 "I'm happy enough with that," said Oliver. "It's always tough being first out but with three horses competing it's to be expected. I've got no complaints – his test was pretty much mistake free and I was happy with his behaviour and how he stayed with me."

Oliver has ample horsepower here at Burghley; he rides his Badminton runner-up Cooley SRS at 0954 tomorrow morning and is last to go on Friday afternoon with his 2017 Land Rover Burghley winner Ballaghmor Class.
The Ground Jury of Angela Tucker, Dr Ernst Topp and Sandar Fulop had had the opportunity to 'get their eyes in' before Oliver entered the ring when WEG-bound British team rider Ros Canter completed a non-competitive 'guinea pig' test with Zenshera, who she plans to take to Pau 4* later in the Autumn.
Four-times Burghley winner Sir Mark Todd sits second going into the lunch break with NZB Campino on 30.8. The pair was ninth here in 2016 and although Mark was happy with the 16-year-old, he was less than impressed with his own performance: "I made two errors of course, forgetting one of the 20m circles and then halting in the wrong place which is pretty unforgiveable," Mark rued. "It's annoying to say the least."
Fellow Kiwi Tim Price with Bango and Burghley debutantes Julie Tew and Simply Sox lie joint third on 32.1: "He's not a dressage horse," admitted Tim who also rides the more experienced Ringwood Sky Boy tomorrow afternoon, "but Burghley is not about being in the lead on day one. He's an out and out galloper and jumper so I'm hoping he'll be in the mix on Sunday."
"I can't tell you how emotional it is being here," admitted Julie. "I've been to virtually every event in the UK and Europe but never Burghley – its crazy. Sox has been difficult to manage over the years with a number of silly injuries and I've really suffered with pain in my back and legs over the last couple of years from when I had a tumor removed from my spine 18 years ago, so to be here is amazing."
The afternoon session starts at 1400, with Land Rover Burghley first timer Katrin Khoddam Hazrati (AUT) first into the arena riding Cosma.
Pagination