2019 Land Rover Burghley first timers – day one
Twenty-four first time horse and rider combinations have lined up for this year's Land Rover Burghley Horse Trials, sixteen of which performed their dressage tests today.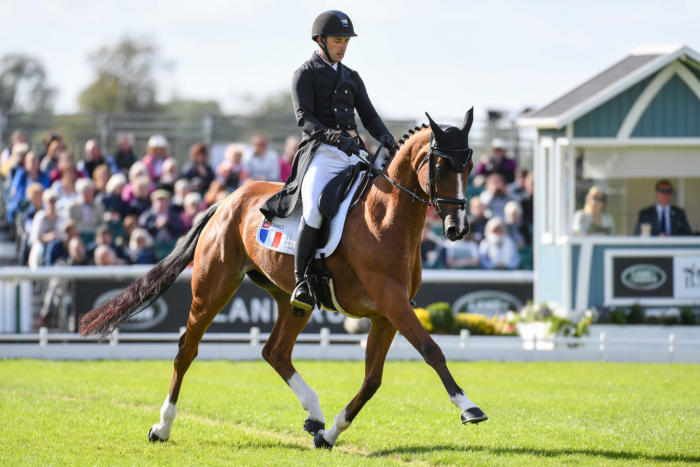 Twenty-four first time horse and rider combinations have lined up for this year's Land Rover Burghley Horse Trials, sixteen of which performed their dressage tests today.
Twenty-six year old Eliza Stoddart (GBR) riding Priorspark Opposition Free wowed the ground jury in the morning session to leave her top of the leaderboard at the end of day one, on a score of 28.7. Sebastien Cavaillon (FRA) and Sarah D'Argouges' (pictured) trip over from Normandy was worthwhile, the pair currently lies in fourth place on 29.8.
Will Furlong, from Battle in Sussex, also impressed, Collien P 2 performing a consistent test to score 31.2, for seventh place.
"She tried really hard but I feel we could have done better," said Will. "She's been quite settled for the last couple of days and it's a great feeling to finally get here. We were supposed to come last year but she studded herself three weeks before the event and we had to withdraw. We're still quite an inexperienced combination so my goal here is a double clear – she's a good cross country horse with a lot of stamina but there are some very big fences out there."
Doug Payne and Vandiver, part of the 11-strong American contingent competing here, got their competition off to a good start scoring 32.1 to end the day equal ninth.
"This is a tremendous place," enthused Doug. "I came here once as a small child and remember there being what felt like about two feet of mud. I've not been since but have watched lots of video footage to try and get a feel for the course. I thought our dressage was as good as it could have been today but this is definitely not a dressage competition – I'm going to do my best to finish on our dressage score and plan to go the direct route everywhere across country other than at the Leaf Pit."
Half a penalty separates David Britnell (GBR) on Continuity and Isabel English (AUS) with Feldale Mouse, rewarding them with 15th and 16th places respectively, just ahead of Nicky Hill riding MGH Bingo Boy with David Doel's Shannondale Quest and Richard Skelt on Credo III next in the first timers order.
"I'm dead chuffed," confessed David Britnell. "I feel like we built on the test we did at Badminton this year and I'm just itching to get out on the cross country course."
Leamore Master Plan under Ariel Grald (USA) and Carryon Bobby Boy, ridden by Julia Norman (GBR), scored 38.1 and 38.3 respectively, Alicia Hawker (GBR) and Charles RR lie on 38.5 while Dominic Schramm (AUS) and Bolytair B posted a score of 38.7 for their first Burghley test, highlighting how close the competition is.
"It was surreal riding into the arena," admitted Dominic "but great to finally be at big, bad Burghley. Bolytair B is a big horse and a bit of a ticking time bomb in the canter work so I'm pleased with our score. He's not a very blood (thoroughbred) horse but we've got him as trim as he can be to help him cope with the hills – we've definitely stripped out all the seats and insulation!"
Amateur rider and full time dentist, Dr Caroline Clarke, lies further down the leaderboard. Touch Too Much posted a score of 39.8, .1 of a penalty behind French first timer and building site manager, Arthur Chabert.
"It's just so nice to be here," enthused Caroline. "He was a bit tense in there but it was such an amazing experience – I loved it, it was a bit terrifying but in a good way. I haven't walked the course yet, I've tried to leave it until as late as possible to minimise the number of sleepless nights I'll have."
Finally, Ginny Howe and Undalgo De Windsor languish at the bottom of the leaderboard on 50.1.
Pagination