2019 Land Rover Burghley first timers - day 2
Best of today's first timers were Elisabeth Halliday-Sharp and Deniro Z, representing America, who moved above overnight leader Eliza Stoddart...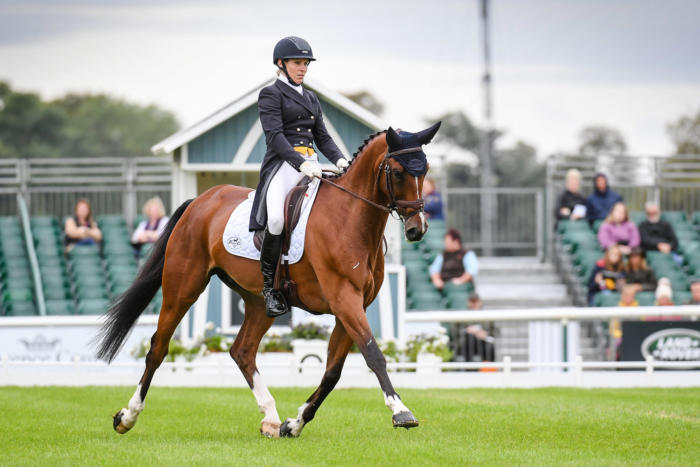 Whilst the majority of this year's Land Rover Burghley Horse Trials first time competitors performed their dressage tests yesterday, eight combinations were in action today.
Best of these was Elisabeth Halliday-Sharp and Deniro Z, the first pair to move above yesterday's overnight leader Eliza Stoddart with a score of 28.4.
"I've had him his whole career and coming here has always been our goal for this season," said Elisabeth. "I've been working hard this year to get more lift into his paces and I think that showed today in his trot work.
"He's the fittest he's ever been and I really think he could do a good job tomorrow, so I'm excited to get out there."
Sweden's Johan Lundin and the Irish-bred ex-racecourse Mind Me posted a personal best to score 32.5, less than a penalty ahead of Emily Philp riding Camembert.
James Sommerville and Talent, who have two Badminton completions together, were today's next best newcomers on a score of 35.1.
"I was pleased with the work he did in there," said James of Talent's efforts between the dressage boards. We opted to go to Blair last year rather than come here and he ran away with me there towards the end of the cross country so I'm not worried about his stamina tomorrow. I'm looking forward to getting out there and seeing what he's made of."
Clara Loiseau and Won't Wait, riding for France, had to endure a sharp period of wind and rain while they completed their test for a score of 38.9.
Representing New Zealand, Samantha Lissington and Ricker Ridge Rui, competing in the UK for the first time, have slotted in to the leader board just behind Dominic Schramm, one of yesterday's contenders, but ahead of another American rider, Chris Talley on Unmarked Bills.
"I'm loving it here so far," enthused Samantha. "I've got a two year visa and have brought four horses over with me. It's been an adventure and a half so far – this is my first 5* and it's all go as I'm also moving house and yards on Monday.
"My horse is a real dude. He's very scopey and brave and just wants to please. He should be good across country on Saturday, I've just to make sure I'm good as well."
Finally, George Hilton-Jones and Efraim – who completed their first Five Star event at Luhmuhlen earlier this season – languish near the bottom of the leader board after scoring 44.5.
Final first timer rankings after dressage:
7th= Elisabeth Halliday-Sharp & Deniro Z ~ 28.4
9th= Eliza Stoddart & Priorspark Opposition Free ~ 28.7
13thSebastien Cavaillon & Sarah D'Argouges ~ 29.8
19thWill Furlong & Collien P 2 ~ 31.2
21st=Doug Payne & Vandiver ~ 32.1
27thJohan Lundin & Mind Me ~ 32.5
31stEmily Philp & Camembert ~ 33.3
32ndDavid Britnell & Continuity ~ 33.5
33rdIsabel English & Feldale Mouse ~ 34.0
37th= James Sommerville & Talent ~ 35.1
39th= Nicky Hill & MGH Bingo Boy ~ 35.3
45thDavid Doel & Shannondale Quest ~ 37.2
47thRichard Skelt & Credo III ~ 37.7
48th= Ariel Grald & Leamore Master Plan ~ 38.1
48th= Clara Loiseau & Wont Wait ~ 38.1
50thJulia Norman & Carryon Bobby Boy ~ 38.3
51st= Alicia Hawker & Charles RR ~ 38.5
53rdDominic Schramm & Bolytair B ~ 38.7
54th= Samantha Lissington & Ricker Ridge Rui ~ 39.1
58thArthur Chabert & Goldsmiths Imber ~ 39.7
59thCaroline Clarke & Touch Too Much ~ 39.8
61stChris Talley & Unmarked Bills ~ 40.6
63rd= George Hilton-Jones & Efraim ~ 44.5
66thGinny Howe & Undalgo De Windsor ~ 50.1
Pagination