2019 Land Rover Burghley Horse Trials gets underway with First Horse Inspection
Sixty seven horse and rider combinations make up this year's start list.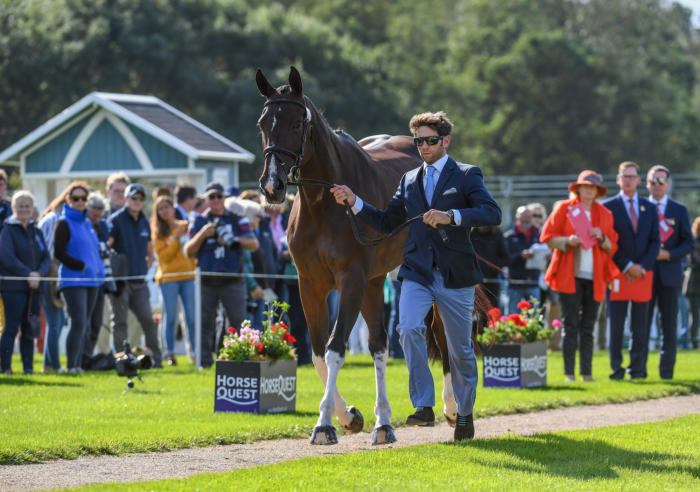 At the end of the Horsequest First Horse Inspection, 67 horse and rider combinations from six nations make up the start list for the 2019 Land Rover Burghley Horse Trials.
The Members of the Ground Jury, Nick Burton (GB) Christina Klingspor (SWE) and Xavier Le Sauce (FR) ensure that all horses are fit and ready to compete at this prestigious CCI5* competition. No horses were held for re-inspection.
Defending champion, Tim Price from New Zealand, heads the entries with three horses - accompanied by his Badminton-winning wife Jonelle; laying down the gauntlet to the rest of the world's leading event riders.
A strong British contingent includes another former Burghley winner, Oliver Townend, who brings the talented Ballaghmor Class. Last year's runner-up Piggy French and Vanir Kamira, will be hoping to go one better, while other noteworthy entries include Gemma Tattersall, who has both Arctic Soul and Santiago Bay in the mix. Izzy Taylor and Zara Tindall are both bringing five-star first timers to Stamford this autumn, with PSH Gazelle and Class Affair respectively.
A strong American contingent totalling eleven riders is led by Burghley veteran Bruce Davidson Jnr. The international field is further bolstered by two Australian riders: Isabel English and Dominic Schram, three French riders: Arthur Chabert, Sebastien Cavaillon, Arthur Duffort, two Swedes: Johan Lundin and Ludwig Svennerstal in addition to Marcelo Tosi representing Brazil.
The HiHo Silver competition for the best dressed riders was won by Burghley first timer Caroline Clarke (GB) and Arthur Chabert (FRA) – judged by Emma Warren of HiHo Silver and Tom Joule of Joules Clothing.
Eventing World Champion Ros Canter will ride the guinea pig dressage test in front of the Ground Jury at 9.10 am before the first combination, Tim Price and Bango kick off the competition in the Main Arena at 9.30am.

Pagination