Burghley Through The Decades
While the finishing touches are being applied to the 2019 Land Rover Burghley showground, Kate Green takes a look back through the decades at the event's rich history.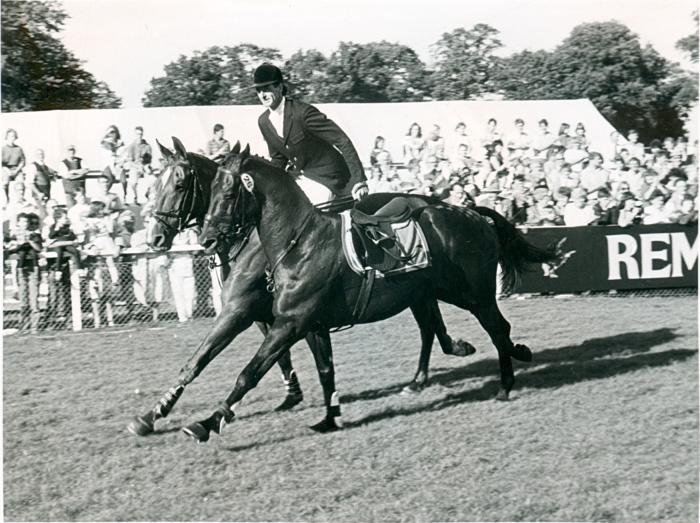 50 years ago
Gill Watson, who is now best known as the highly successful trainer of Britain's Young Rider teams for many years, was herself in the limelight in 1969, towards the end of Burghley's first decade as the sport of eventing was continuing to expand and become more competitive.
Gill was training to be a PE teacher and had only the one main horse, Shaitan, an Arab-hunter cross that she broke in herself. In 1968, the pair were sixth at their first attempt at Burghley and, when Sheila Willcox controversially declined her place as travelling reserve to the Mexico Olympics, Gill and Shaitan went instead.
Their Burghley the following year had been preceded by an unsuccessful trip to Punchestown, so expectations were not high, but such was the influence of the cross-country that Shaitan's speed propelled her from third after dressage into a commanding lead with four show jumps in hand over Mike Tucker, who finished runner-up on Skyborn.
40 years ago
The 1970s was a golden age for British eventing, with the participation of the Princess Royal, medals galore and blanket sponsorship of the national calendar by the Midland Bank. The first balloting came in, as did early computerised scoring, and riders such as Olympic gold medalist Richard Meade and two-time European champion Lucinda Prior-Palmer were household names. However, in 1979 it was an unknown Australian who captured Burghley from underneath their noses.
Andrew Hoy, a 20-year-old dairy farmer from New South Wales and the sole Australian in the field, was something of a shock winner on his little stock horse, Davey, especially as, with a field of 75, it was the most competitive entry for seven years.
Based with Princess Anne and Mark Phillips at Gatcombe, Andrew had ridden at the pivotal World Championships in Kentucky the year before and, like many enterprising antipodeans after him, decided that as Britain was the epicentre of the sport, although it was to be many years before he finally settled in England.
A quarter-century later, with three Olympic team gold medals to his credit, Andrew won Burghley again, on the beautiful thoroughbred Moonfleet, and, now that Sir Mark Todd has retired, he is the most senior leading competitor in the sport, his career given a shot in the arm with a brilliant fourth place in last year's World Equestrian Games.
30 years ago
Burghley hosted its second European Championships, which produced a record third double gold for Ginny Holgate (now Leng), riding the classy Master Craftsman, and another British whitewash. Jane Thelwall and Kings Jester took individual silver and team member Lorna Clarke scooped the bronze with her little roan horse, Fearliath Mor.
A crowd of 50,000 watched on cross-country day as the British team finished miles ahead of the Netherlands, represented by husband-and-wife team Eddy and Mandy Stibbe, and Ireland in bronze position.
Ginny's only near blip came in the show jumping round when, due to nerves, she nearly lost her way in the show jumping but, as she says, 'a guardian angel tapped me on the shoulder' and all was well.
Mark Phillips was appointed course-designer for the championships, taking over from Philip Herbert, who is still clerk of the course here at Burghley. Mark bet the ever-sporting Ian Stark, who was British team anchorman on this occasion on the hard-pulling Glenburnie, that he would not take the direct route at a fiendishly difficult S-shaped fence, the Remy Martin Selection. No one risked it until Ian, who, to the disbelief of the BBC commentator, Raymond Brooks-Ward, flew straight through with a cheery wave.
20 years ago
Remarkably, 20 years ago Mark Todd was preparing for his first retirement from the sport; 1999 saw his fifth and last victory at Burghley, and his 25th three-day event win, riding the jumping-bred Diamond Hall Red.
Mark, whose Burghley career began in 1979 and encompassed first and second places in 1987 on Wilton Fair and Charisma, back-to-back wins in 1990 and 1991 on Face the Music and Welton Greylag, plus an Open European title in 1997 on Broadcast News, made a difficult cross-country course look easy.
He also finished third on the New Zealand thoroughbred Word For Word, his two horses split by long-time British team member Karen Dixon on Too Smart, for whom it was a best ever four-star result.
There was a tragic postscript, however. The year of 1999 was a dark one in the sport's history and Simon Long, a rider who loved his team-chasing and hunting and who epitomised Corinthian spirit, was killed in a rotational fall at the Sunken Water. It was the fourth of five rider fatalities in Britain that year.
At a reception that evening to mark the Horse Trials Support Group's 21st anniversary, the Princess Royal made a moving speech to try to boost a thoroughly dispirited group of people. 'Horses do not always share our aspirations," she said.
10 years ago
This was Oliver Townend's year. At the age of 26, he had won Badminton in the spring of 2009 and he joined the elite group of riders to achieve both British four-star wins in the same 12 months when he captured the Burghley title on the grey Carousel Quest.
Oliver also led the HSBC FEI Classics, a series that linked the world's four-star events, but in an illustration of how tough it is to win at this level, it was to be another eight years before he won Burghley again, on another lovely grey horse, Ballaghmor Class.
He became the fourth winner of Burghley at what was then known as 'short format', the single biggest change to the sport in decades when the old roads and tracks and steeplechase phases were dropped after the Athens Olympics in 2004.
Now, in a further change, the Burghley format is known as 'long' again – distinguished from international short format for its longer cross-country track – and the star rating has been raised to five stars, making it officially more difficult than either an Olympics or a world championships and sealing its reputation as one of the most precious jewels in the eventing crown.
Pagination