Land Rover Burghley prizes
Land Rover Perpetual Challenge Trophy, awarded to the winning owner. A miniature replica will also be awarded to the owner and the rider of the winning horse: Varenna Allen & Tim Price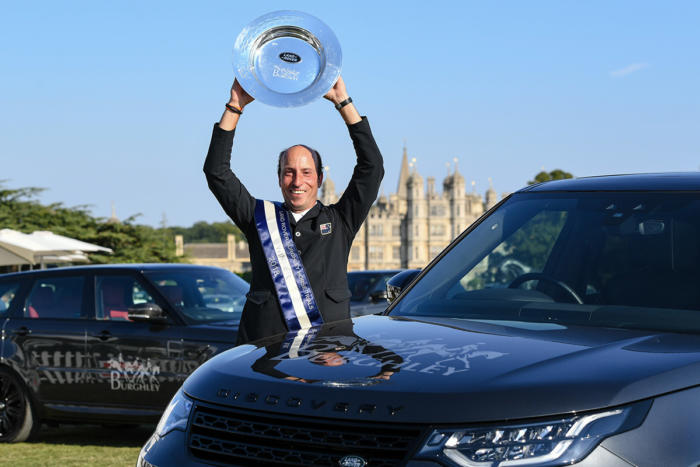 Burghley Challenge Cup, awarded to the winning rider: Tim Price
Ceremonial kukri, awarded by The Ghurka Welfare Trust to the winning rider: Tim Price
Henry Tate Challenge Cup, awarded to the owner of the second horse: Val Ryan, Angela Hislop and Karyn Shuter
Sugden Challenge Trophy, awarded to the rider of the second horse: Oliver Townend
Stamford Challenge Cup, awarded to the owner of the third horse: Paul & Diana Ridgeon
Silver photo frame, awarded by Dawson of Stamford Ltd to the rider of the third horse: Andrew Nicholson
Miniature of the Land Rover Perpetual Challenge Trophy, awarded to the highest placed first-timer: Ciaran Glynn who finished 14th on November Night.
Plaques, awarded to all owners whose horses complete the competition, and to any athlete completing who is not the owner of the horse.
Bronze, presented by SHB (GB), awarded to the owner of the highest placed horse sired by an SHB (GB) graded stallion or HIS premium stallion to finish in the top 12: Angela Hislop for Cooley SRS.
Scholarship for two embryos, awarded by Twemlows Stud farm to the owner of the highest placed British domiciled mare to finish in the top 20: Trevor Dickens for Vanir Kamira
Best Shod Horse Award, sponsored by the Worshipful Company of Farriers: Tom Crisp's Coolys Luxury
Pedens Bloodstock International Pairs Challenge: Tim Price and Georgie Spence
Pagination