Oliver Townend wins Land Rover Burghley Horse Trials
It was a British 1, 2, 3 at this year's Land Rover Burghley Horse Trials, with Oliver Townend taking the coveted title riding Karyn Shuter, Angela Hislop and Val Ryan's 10-year-old gelding Ballaghmor Class.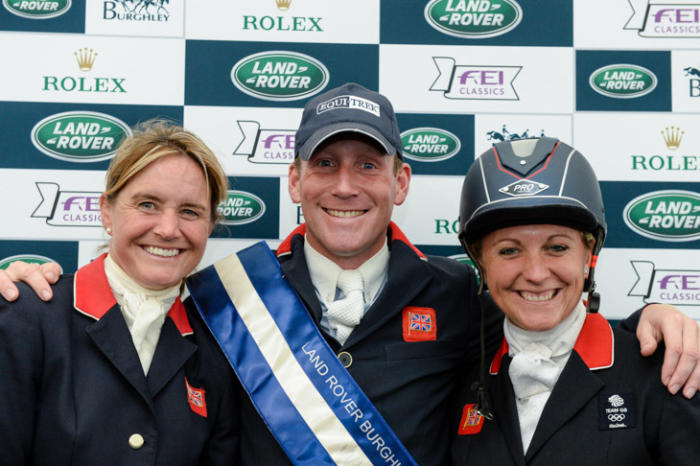 Carrying immense pressure, having sat in pole position over night and being the last to go in the showjumping, Oliver went into the final phase with a fence in hand, which he used up when a miscommunication at the gate (fence 5) resulted in four faults. He also picked up one time fault, but it mattered not as he stayed 1.3 points ahead of runner up, Piggy French.

"It's very, very special," smiled an emotional Oliver, who last won a four star in 2009 – here at Burghley. "We've had Ballaghmor Class from the word go and he's a top class horse. I looked around the collecting ring and I honestly wouldn't swap him for any other horse in there. It's been a long time since I said that. It's the biggest and most difficult four star to win and it means the world to me."
Piggy French, who returned to competition this spring after a year off having her son Max, pulled off a faultless clear round aboard Vanir Kamira, to climb up the leader board from fifth overnight into the runner-up spot.
"She was fabulous," said Piggy of Trevor Dickens' 12-year-old mare. "I came here hoping for a top 10 finish – I've not managed to achieve that here before, and have more often eaten the Burghley dirt – so it's great to be back at this level and up the leader board. Burghley is the toughest four star and it's always been a dream to do well. What a difference a year makes."
Lying in second overnight, the pressure was on Gemma Tattersall and Arctic Soul for whom a clear round would have resulted in a win, but they hit the penultimate fence to drop down to third. "So close yet so far. A stupid little touch of an upright cost us, but we're still third at Burghley and he's an incredible horse who doesn't owe me anything," Gemma concluded.
Tom McEwen's immaculate clear round riding Toledo De Kerser pulled him up from seventh overnight into fourth – and gave Great Britain a clean sweep of the top placings. "What a horse, he was magnificent," said Tom. "It was his third double clear at four star level and he jumped his socks off. I'm so happy with him and excited for the future."
New Zealand's Tim Price filled fifth place riding Ringwood Sky Boy after a fence and a time fault showjumping added five penalties to his overnight score. "Although we had one down, that was like a clear round for him," Tim said. "I reckon he's got a win in him one day, just not today."
The USA's Lynn Symansky and Donner picked up four faults to finish sixth, while a clear round showjumping pushed Tina Cook and her second ride Star Witness up the leaderboard from tenth to seventh. She also finished 17th with Calvino II.
Andrew Nicholson and Nereo clocked up 10 penalties to drop from sixth overnight to eighth, this result meaning that Nereo has now earnt over 3000 British Eventing points, a record, in his illustrious career.
Izzy Taylor and Trevidden had three fences down moving them from third overnight to eventual ninth, and the USA's Boyd Martin and Steady Eddie had two poles to finish tenth.
Pagination