Pure Class from Townend
Oliver Townend and Ballaghmor Class are 2023 Defender Burghley Horse Trials Champions and scoop the richest prize in the sport this year.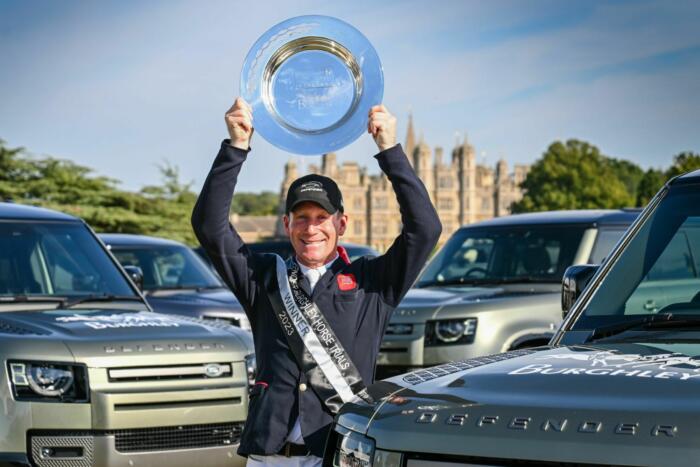 Oliver Townend and Karyn Shuter, Angela Hislop and Val Ryan's Ballaghmor Class, also the 2017 Defender Burghley winners, received a record-breaking first prize of £110,000 after lowering just one rail in today's final show jumping phase to win on a final score of 33.
David Doel and Gillian Jonas' Galileo Nieuwmoed finished second on 33.7, with Harry Meade and Charlotte Opperman's Cavalier Crystal completing an all-British top three on 37.4.
The pair had been in second place overnight behind cross-country leaders Tim Price and Vitali. However, a heartbreaking four show jumps down in the phase which has always been Vitali's Archilles heel, saw them drop to eventual fourth and opened the door for the 2017 Burghley Defender winners to regain the title.
"We'll be celebrating tonight and it won't be with tea and biscuits that's for sure," said Oliver. "I got to the second last and thought 'goodness, we're still clear, but then had the last down."
"He's as good and as sound as he's ever been, if not better," he added. "I'm just so proud of him and the whole team behind us at home, most of whom have been with me for many years and are responsible for enabling us to win so many five-stars."
Former Junior and Young Rider European team gold medallist David Doel, who is based at the family dairy farm in Wiltshire, quietly went about his business in the atmospheric Main Arena and jumped a beautiful clear round with the Dutch-bred Galileo Nieuwmoed on what was the horse's Burghley debut. Even more impressively, they were the only combination in this year's field to complete on their dressage score.
"He was magic," said David "We had a couple of lucky rubs in there, but he's a very special horse and deserves this result. The prize money won't go amiss either – I owe the wife a holiday and can afford to take one now!"
Harry Meade's third place with Cavalier Crystal was his best ever result at Defender Burghley – his previous best being sixth with Away Cruising in 2018 (27th here this year).
"That was really cool – she's such a fantastic little jumper and felt like she was on springs in there," he said immediately after this round.
Scotland's Wills Oakden, another former British Young Rider European team gold medallist, had a great weekend, finishing fifth with Oughterard Cooley and eighth with Arklow Puissance.
Former Defender Burghley winner Pippa Funnell finished sixth with Majas Hope on 42.4, with 21-year-old Alice Casburn close behind in seventh with Topspin on 43.4 after jumping clear.
"There's such an atmosphere in that arena," Alice commented, "and you can hear everything in the crowd. He was just incredible – he deserves this so much."
The USA's Boyd Martin completed the top 10 with his two rides Tsetserleg TSF (9th) and On Cue (10th).

Pagination