Dubarry Burghley Young Event Horse 4-year-old Championship
Sirius shines bright in four-year old final. Quality came through in the four-year-old final, won by Sara Brown's German bred gelding Sirius ridden by Buckinghamshire based Harry Horgan. The pair flew to the top of the leaderboard with a convincing lead after the first phase having gained the highest marks of the class in both dressage and showjumping sections and top marks for type. High marks from Jeanette Brakewell, who judged the final section, meant they proved unbeatable. By the Hanoverian Scuderia – bred by Active Equestrian in the UK and now owned by Pape Stallions in Germany – Sirius was acquired from Brightwells December sale.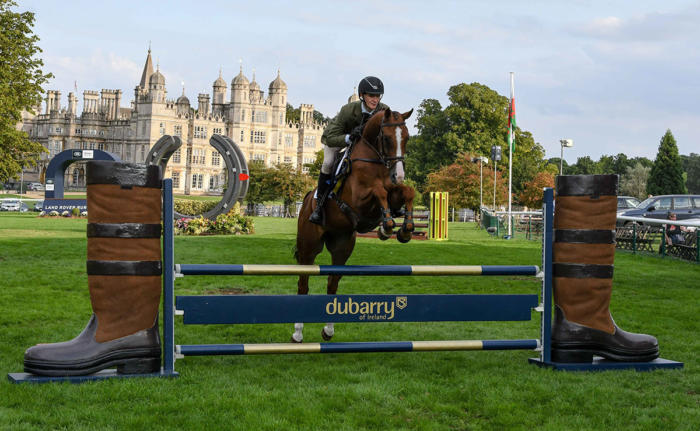 "This one's already and yard favourite and a keeper," said Harry who generally produces young horses to sell. "He has already exceeded all expectations and today he just dealt with the atmosphere and gave me everything he had."

Second place and the best British-bred went to Helen Watkins homebred Spye Morning Star, a lovely deep chestnut gelding by the former Badminton winner Chilli Morning – one of two by the SHB(GB) Elite sire in the top five. He was ridden by Hannah Freeman, who is based at the Spye Park yard near Chippenham where the horse was born.
"He has such a lovely temperament and is so easy to do but he'll have a well deserved holiday now,"said Hannah.
Irish WEG team rider Padraig McCarthy's stallion Jefferson VDL stood third. The dark brown stallion is by the leading jumping sire Kannan out of a mare by Coriander, a sister to the stallion Namelus R. He was acquired by Padraig and his wife Lucy as an addition to their Devon-based MGH Sport Horse Stud.
It seems like no BYEH final is complete without Ros Canter and this one was no different. Ros, another who will be heading out to the World Equestrian Games shortly, was fourth with Mr & Mrs Chris Makin's upstanding Irish-bred Makin a Storm while her second ride, Alex Fishpool's homebred Khaleesi, by Grafenstolz out of a mare by Bazaar's Exclusive, stood 7th and claimed the prize for the highest placed mare.
Former British team rider Jeanette Brakewell judged the final section for Suitability and Potential and then rode the top four placed horses before making the final decision.
She said; "Riding unfamiliar four-year-olds is quite daunting but you know they have already worked and wouldn't be in the top 10 if they were unruly and all of these were well produced. The top two were very different – the winner was flashier and more powerful while the reserve really felt in balance and like he really wanted to work with you."
Results
Sirius (Suderia-Contendro I) Harry Horgan 97.8
Spye Morning Star (Chilli Morning-Esprit) Hannah Freeman 96.5
Jefferson VDL (Kannan-Coriander) Padraig McCarthy 88.0
Makin A Storm (Harelequin Du Carel-Ars Vivendi) Ros Canter 88.0
Chillis Midnight Star (Chilli Morning-Laban) Caroline Harris 82.5
Winair BDA (Warrant-Lupicor) Kelly Aldous 81.0
Pagination