Land Rover Burghley First Timers – Friday Round-Up
A further six first timers started their Land Rover Burghley campaigns today. Ciaran Glynn was the first rider in front of the judges this morning. Representing Ireland he rides November Night, a 12-year-old Irish Sports Horse mare. The pair completed their first four-star two years ago at Pau and finished 25th at Badminton this spring.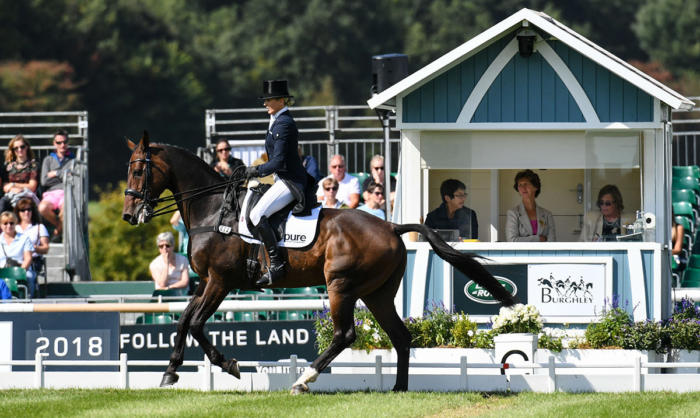 "She doesn't find dressage easy, and doesn't enjoy going round and round in circles," said Ciaran after his test. "She's just not put together to do dressage – but she was a good girl today."
Of the cross-country course he said: "It's very big and there are significant lumps of timber in the way. I've never been here before and didn't realise how beefy the course would be or how challenging the terrain. The drag up Winners Avenue seems to go on forever.
"I walked the course for the first time on Wednesday and scared the living daylights out of myself. I walked it again yesterday with Yogi Breisner which softened things a bit, and will walk it again today to see if it's got any smaller."
Ciaran lies on a score of 33.6 tonight, in 28th place.
Local rider Emily Prangnell was up next. Riding her own DHI Beaunesse, Land Rover Burghley is a first four-star attempt for both of them. Delighted with the mare's performance, Emily said: "She was the most rideable she has ever been in a test. She likes to show off and I'm pleased with how she coped with the atmosphere.
"My aim is to complete the event, but a top half finish should be doable if everything goes to plan. I've struggled with nerves in the past and have waves of emotion. I'm really excited to be here and then I think, 'oh my goodness, what am I doing'!"
With a score of 34.9, Emily and DHI Beaunesse finish the dressage phase in 35th place.
Ashley Edmond and Triple Chance made their four-star debut last autumn at Pau, France, and more recently completed Badminton this spring.
Scoring 41.1 for overnight 68th place, Ashley said: "He was a good boy, for him – although it wasn't the best score – but it's fantastic to be here. As a child we all dream of going to Badminton and Burghley, so to do both is amazing."
She admitted: "Showjumping is our achilles heel; we might have four down, we might jump clear. The cross-country is massive but there was nothing I looked at and thought 'I can't do that'. Triple Chance doesn't have the biggest jump so there are a few places where I've planned alternatives."
Following Ashley into the arena was Lydia Hannon. She and My Royal Touch completed Luhmuhlen four-star in 2016 and Badminton both last year and this.
This previous experience has not necessarily helped here: "My Royal Touch has been 'hot' in the dressage since Badminton last year. Whilst she didn't blow up in there today, it wasn't the mark I hoped for.
"It's always been about Burghley for me. It's stunning. I've walked the course and as long as we both do our jobs and we attack, we should be OK. I'm really excited to get out there."
Lydia sits on a score of 36.9 in 52nd place.
Debutant Katie Preston posted a score of 37.2 riding the smallest horse in the field, Templar Justice. The pair lies in 55th place at the close of play today. Read more about Katie HERE.
Lissa Green (pictured) has had a couple of goes at getting to Land Rover Burghley, having to withdraw before the competition started. This year she is underway, riding Hollyfield II.
"Dressage is never the test I want as neither of us is up there yet in terms of our ability, but he has improved so much and is using muscles that he has never used before. We did minimal warm up but he still found it hard about three quarters of the way through the test and I had to nurse him home as his muscles tired."
Lissa has walked tomorrow's cross-country, saying: "I loved it, so I'm not sure what I missed!"
Hollyfield II scored 37.9 and sits in 58th place.
Thursday riders placings at the close of the dressage phase:
Camille Lejeune FRA: 30th
Hector Payne: =24th
Ginny Thompson NZL: 48th
Julie Tew: =16th
Katrin Khoddam Hazrati AUT: 67th
Hazel Towers: 60th
Tom Rowland: 22nd
Sam Ecroyd: 34th
Sarah Pickard: 59th
Pagination