Friday Dressage Round-Up
As he did last year, New Zealand's Sir Mark Todd pulled off a near foot-perfect performance towards the end of the day to head the Land Rover Burghley Horse Trials dressage leader board going in to tomorrow's cross country phase. Last year was with Leonidas II but this year it was with Burghley debutante Kiltubrid Rhapsody, with whom he finished sixth at Badminton in the Spring.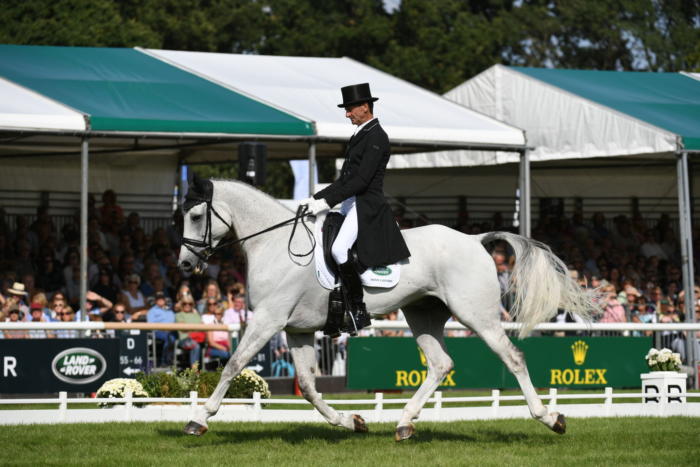 The eye catching grey skipped once in his extended trot but still earned an unassailable score of 26.4. "He was very good," admitted Mark. "From where he is in his training he couldn't have done much more today. He was a bit nervous warming up but he has a wonderful temperament and is just getting better and better."
Mark's compatriot, Tim Price, husband of this year's Badminton and Luhmuhlen winner Jonelle, sits second with Ringwood Sky Boy on 26.9. Fourth here in 2016 and fifth in 2017, this combination could certainly be in the mix on Sunday afternoon.
When asked about what aspects of the quirky 15-year-old's test he was most impressed with, Tim replied, "we stood still three times! He's gone sideways and backwards when halting in tests at major competitions in the past – maybe this is him finally maturing."
Long-time leader Oliver Townend now lies third with MHS King Joules on 27.2 but has a strong hand to play over the weekend with last year's winner Ballaghmor Class fifth on 27.9 and Cooley SRS seventh on 29.4.
Great Britain's Sarah Bullimore and Reve Du Rouet currently sit fourth and Germany's Andreas Dibowski with FRH Butts Avedon sixth.
Tomorrow's cross country phase will be, without doubt, extremely influential, with just over three seconds separating the top five and 10 seconds separating the top 10.
"There are some big jumps out there and I can't remember ever going up and down hill here so much, or going up the big pull up Winners Avenue at around the seven to eight minute mark" said Sir Mark Todd. "It's going to be a stamina test and the optimum time is going to be tough to get."
Cross country action starts tomorrow at 1100 with Oliver Townend and MHS King Joules first out of the start box.

Pagination