Dubarry Burghley Young Event Horse 5-year-old Championship
Amateur Ellie shows the professionals how its done. Friday at the Land Rover Burghley Horse Trials is the day for young horses and the final of the Dubarry Burghley Young Event Horse series. Thirty five qualifiers came forward for the hotly contested five-year-old championship which proved a close run affair, with the result having to be decided by the best jumping marks.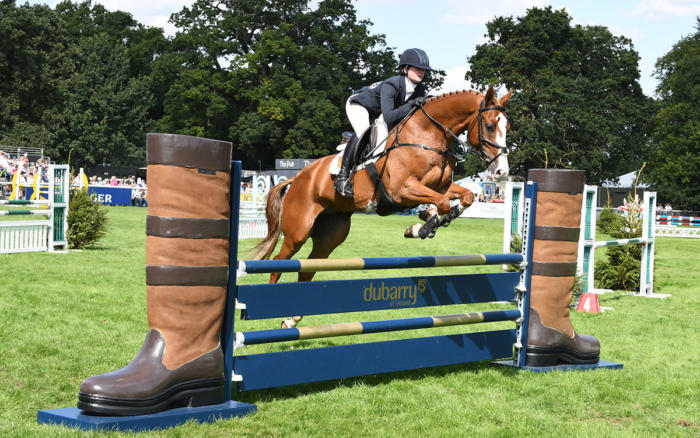 It was the young amateur rider Ellie Ormrod and Keyland William that gained the edge. The bright chestnut with a striking blaze proved a model of consistency for Ellie, who recently finished university and has just started her first job on the journey to be a Royal Chartered Surveyor.
It was an emotional win for Ellie and her mother Sarah who bought the horse last year from his breeders at the Keyland Stud near Bury St Edmunds.
"I am absolutley shocked to win – we just came to enjoy the occasion," said Ellie. "He was the first horse we saw on Horse Quest and the reason we went to see him was because he was by Wolkenderry and we had previously had a horse by him."
The pair had an inauspicous start to their life together when Ellie broke her pelvis at the end of the year, but after surgery to pin and plate the break she got herself back in the saddle in March.
"I have never done this competition before and we only did one qualifer – just qualifying for the final was a shock. But he is fantastic – he just takes on the jumps, especially as I am not really quite balanced yet," said Ellie, who is from Biddulph near Stoke on Trent and is trained by four-star event rider Emily Gilruth and Joss Edwards on the flat.
Ros Canter, a familiar face in these finals, once again came to the fore this year to finish second with her own Izilot DHI, a Dutch-bred bright bay by Zavall VDL, a son of the leading showjumper Casall Ask. The pair gained the highest mark for dressage.
"He gives me such a good feel and so far has proved very brave," said Ros, who now takes him to the five-year-old British Eventing Young Horse Championships at Osberton.
It was also a tie for the next two places with Cheltenham-based Bernie Wharfe taking third riding Imogen Murray and MS Team's Stonehaven Penshill Cobra while Imogen was fourth with her own and the MS Team's Sandyhill Penshill Zorro. Bernie and Penshill Cobra, who is by Holstein Cobra, a son of the great Carthago Z, gained the highest marks of the morning from showjumping judges Andrew Saywell and Frederik Bergendorf.
Just five mares came forward for the final and the highest placed of the five was Coroyale by Royaldik, bred by rider Sarah Bullimore out of her four-star mare Lily Corinne.
Results
Keyland William (Wolkenderry-Derg Cruise) Ellie Ormrod 89.5
Izilot DHI (Zavall VDL-Marlon) Ros Canter 89.5
Stonehaven Penshill Cobra (by Cobra) Bernie Wharfe 88.0
Sandyhill Penshill Zorro (by Sligo Candy Boy) 88.00
Moonlight Charmer (by OBOS Quality) Roberto Scalisi 81
Rock Midnight (Loughehoe Guy-Robertstown Boy) Caroline Powell 77.0
Pagination