Thursday Round-Up - Land Rover Burghley First Timers
Fifteen first timers are due to tackle this year's Land Rover Burghley Horse Trials, and we will follow their progress through the phases. Today, nine completed their dressage tests.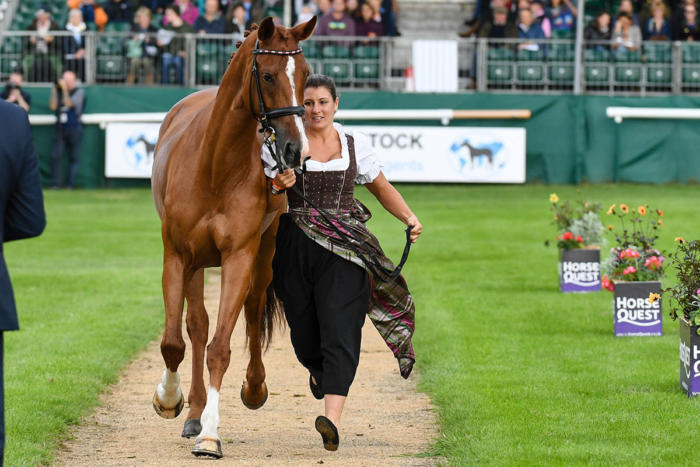 First up was Camille Lejeune for France, riding Tahina Des Isles. Camille, 31, has previously completed Luhmuhlen, Badminton and Pau four-star events, and has represented France at Junior and Young Rider level.

Tahina Des Isles is an 11-year-old Selle Francais mare, produced through the levels by Camille.
"The public were very close in there," said Camille after his test. "She warmed up very well but was a bit tense in the test and I was disappointed with the working trot.
"I remember watching videos of Mark Todd and Andrew Nicholson riding here when I was eight or nine, but have never been to Burghley before as a spectator. It's a childhood dream to be here."
Camille posted a score of 33.9 to lie in 17th place at the end of day one.
Hector Payne was the first of the Brits in front of the Ground Jury. Read more about Hector HERE.
He and Dynasty scored 33.2 for equal 13th place overnight.
Representing New Zealand, Ginny Thompson is riding Star Nouveau. The pair completed Badminton this spring, having already placed eighth at the 2017 Adelaide four-star.
Star Nouveau is a 14-year-old New Zealand bred warmblood mare, by the Dutch stallion Goldstar. Ginny has ridden her since 2013. The pair lies on a score of 36.5, in 24th place.
Julie Tew found herself in equal third place at the lunch break, having posted a score of 32.1 on her parents 14-year-old Irish Sport Horse Simply Sox. For this morning's report, click HERE,
The pair completed Luhmuhlen earlier this year while Julie is a past Pony and Young Rider medallist.
By the close of play today the pair had dropped to equal eighth place.
Austrian rider Katrin Khoddam Hazrati (pictured), 31, is paying her first visit to Burghley in any capacity. She is riding the youngest horse in the field, the nine-year-old Cosma, a former showjumper – the pair finished 24th at the European Championships in Strzegom, Poland, last year.
"My horse is very special," she explained of her German-bred chestnut mare, "as she jumps very high, which is a worry about getting the time, but it is a great feeling just being here."
With a score of 40.7 the pair lies in 33rd place
Hazel Towers achieved her goal of scoring under 40 with a mark of 38.7 – she has posted scores in the 50s in the past. Hazel's mother used to compete at Prix St Georges [dressage] so she finds dressage easy, but admits that Simply Clover does not, and can get very stressed.
Hazel gave up her job as a brand manager for a novelty umbrella company in 2016 to ride full time. "It's great, I'm living the dream," she said.
The pair lies in 29th place on a score of 38.7.
Tom Rowland is at Land Rover Burghley with Possible Mission,an 11-year-old Irish Sport Horse. While Tom has completed a four-star – Pau, riding Hennessey Cormac – this is Possible Mission's first run at the level.
"I'm trying to treat it like any other event. The horse has done plenty of three-stars and he doesn't know that this is different," said Tom after his test. "Sometimes he can be more Mission Impossible than Possible Mission, but I have had a lot of help from Pammy Hutton and he felt great in there. The crowd's applause for Sarah Bullimore's test really lifted him.
Scoring 32.8, Tom and Mission Impossible are in 11th at the end of day one.
Sam Ecroyd is this year's youngest competitor at 22. A medallist at Pony and Young Rider level, Sam and his Burghley mount Master Douglas finished third in the U25 CCI three-star at Bramham this summer.
Master Douglas is a 12-year-old Dutch-bred horse who was produced to three-star level by Helen Waterhouse. Sam took over the ride at the end of 2015.
They scored 34.4 for an overnight 20th place.
Today's final first-timer into the dressage arena was Sarah Pickard riding Polo Striker. Sarah, 24, is an amateur rider from Kent who, after studying criminology at university works for the Lees Court Estate near Faversham.
Sarah aquired Polo Striker, a 12-year-old Irish bred horse, in 2010. They pair finished 12th in the U25 CCI three-star at Bramham this year. Today they scored 38.3 for their dressage to hold 28th going in to the second day.
Dressage starts tomorrow at 09:30 with Irish first-timer Ciaran Glynn and November Night.
Pagination