SEIB Racehorse to Riding Horse Land Rover Burghley qualifier
The SEIB Racehorse to Riding Horse Land Rover Burghley qualifier is a true spectacle in the main Burghley arena. Twenty-three thoroughbred ex-racehorses – including one coloured horse – took part in this qualifier for the SEIB Racehorse to Riding horse championship which takes place at Horse of the Show in October. Horses entered into this class range from former flat racing champions to those that have only ever run in local point to points. The horses' performance on the racecourse provides no indication of what they may achieve as show horses.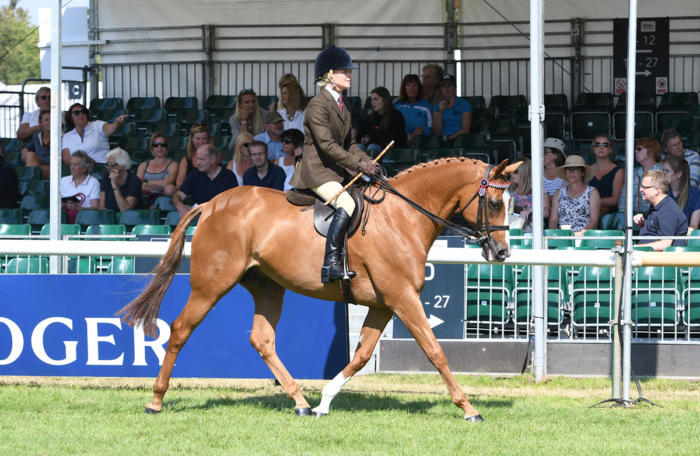 The SEIB Racehorse to Riding Horse class didn't finish without some excitement as the intended winner, L'Amiral David, did not stand still during the prize giving, which resulted in a last minute disqualification. Judges, Jordan Cook (ride) and Anne Hooley (conformation) were unanimous in their decision and both reiterated the importance of good manners in the show ring.

Lizzie Harris and her own Wild West won the class to earn their HOYS ticket. Lizzie said : "This is the third time Westie has qualified at Burghley. He absolutely loves it here. He is a complete pet and my two-year-old daughter, Olivia leads him in from the field every day. Westie took the runner up spot in the Aintree Equitrek June show so he will also get to lead the winner of the Topham Chase at Aintree in the spring". In the run up to HOYS Lizzie and Wild West will compete in some side saddle classes.
Runners up, Donna Bamonte and her own, Valentine Jak have now qualified for their sixth consecutive HOYS appearance. They have travelled the length of the country from Devon to Northumberland and everywhere in between to earn their qualification. Donna explained: "Jak will now have been to HOYS in the SEIB Racehorse class more times than any other horse. It is his last go at the championship this year. Just to be at Burghley with him today has been wonderful and I am thrilled to have qualified again."
Susan Church's mare, Free Diamonds, ridden by Jo Jacks took third place. This mare qualified for HOYS at the Vale View SEIB qualifier. Jo has worked for top showing producer, Katie Jerram for 14 years now. She said: "I rode for Sue in my first year at Katie's and it is so nice now to be off to HOYS with her stunning little horse."
Charley Baxter riding Rebecca Ward's, Mandaean took fourth place. This bay gelding was a former Group 1 winner on the flat and last ran in 2013. Rebecca said: "I am over the moon with him, he has been lightly shown and will campaign next year in the SEIB Racehorse to Riding Horse classes with the goal of qualifying for HOYS.
Another horse from the Jerram's yard did well at Burghley to finish in 5th place. Chris Hunnable was chuffed with Singing Hinnie owned by Rebecca Lowe. He said: "It is all thanks to SEIB for this opportunity to ride at Burghley. I think I appreciate it more than most. The last time I rode here as a competitor was in the Land Rover Burghley Horse Trials in 2003 on a horse called What A Performance".
Pagination